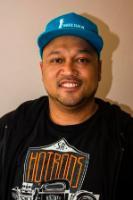 The well-known political analyst, broadcaster, lecturer, writer and author Mr Eusebius McKaiser closed the 2014 Annual Teach-In with an insightful discussion of the Democratic Alliance's (DA) future and failure to establish a clear ideological identity, something he believes has contributed to division on questions of leadership and confusion in relation to policy.
"That kind of political confusion is the result of a party that has not even decided what its philosophical position is," he said, mentioning the party's divided stance on questions of non-racialism and BEE in particular.
Mr McKaiser argued that the conversation around how the DA wishes to align itself ideologically needs to happen, but said that it has not to date because the DA lacks an intellectual class able to step up to the podium and have that conversation.
This has led to arguments about whether the party is truly liberal and allegations that they are "pragmatic" and have "sold out". He believes that the DA can establish itself as liberal, but that it needs to have a discussion around what that means to assert its position. "Own your philosophical foundations – that is what you've got to do," he said.
A result of the party's ideological confusion is an unclear understanding of what non-racialism means and Mr McKaiser believes this is playing out in the current debate on who will take the position of caucus leader now that Ms Lindiwe Mazibuko is out of the picture.
Although the DA regularly claim to be "colour blind" in their non-racialism, he believes this is not at all the case and thinks that race is a huge factor in their leadership in-fighting at present, with support for more experienced members of parliament coming up against the parties desire to "rebrand" by appointing younger, black leaders.
"Race is the elephant in the DA caucus," he said. "The DA, although it pretends to be not like us and to never think about race is profoundly aware of race and about to be hamstrung by it."
He analysed the potential appointment of Mr Mmusi Maimane in elaboration of this, saying, "It's bad for democracy, it's bad for Mmusi, and it's bad for the DA." Though he believes Maimane is talented, intelligent, educated, and needing to play a role in the party's future, he thinks he is still too inexperienced to be the kind of MP South Africa needs from the official opposition party.
He argued that the DA would be wiser to have an open discussion on race within their own ranks and then to maintain to a single decision: either holding that race does matter in who they appoint as leader or saying that it does and justifies appointing a perhaps less experienced young black MP with a strong support team. "Do [the DA] come out of the closet and tell South Africa 'We actually see black and white'?" he asked.
Contributing to the party's generally somewhat disarrayed public image at present, he believes, is the fact that leader Ms Helen Zille's word is no longer taken to be the gospel. "Her ability to make someone's career is far less than it was a few years ago."
"Helen Zille no longer has a monopoly on the conversation of where the party should go," he said, though he did say that contrary to popular opinion she is not power-hungry but only stays on because she has no clear successor. Regardless, he said, "Many people in the DA have become gatvol with a top-down approach in her leadership style."
Mr McKaiser has recently published a book, Could I vote DA?.
By Kyla Hazell
Source: Communications
Please help us to raise funds so that we can give all our students a chance to access online teaching and learning. Covid-19 has disrupted our students' education. Don't let the digital divide put their future at risk. Visit www.ru.ac.za/rucoronavirusgateway to donate