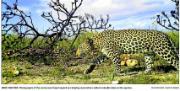 TWELVE thousand photographs over 18 months, fewer than 170 capturing what the cameras were after. That's what you call elusive. But those snapshots provided a mine of information.
Leopards frequently hunt and eat baboons in the Little Karoo, and most landowners in the region are highly supportive of Cape leopard conservation. These are two of the findings that surprised Rhodes University PhD graduate Dr Gareth Mann, who has conducted the most detailed study ever undertaken on the rarely seen Cape leopard of the Little Karoo.
The study, conducted for his PhD with the support of the Cape Leopard Trust and CapeNature, spanned 3 000km2 in the Gouritz area between Calitzdorp and Oudtshoorn. The study area included the Swartberg and Gamkaberg cluster of nature reserves, together with privately owned land and farms.
"In the past, we were restricted to gleaning information from the leopards' spoor - few and far between in this harsh terrain. Fortunately, new technology in the form of camera traps has made research on leopards and other cryptic animals a far more realistic possibility," said Mann, who is now doing postdoctoral work on his research in the Zoology and Entomology Department at Rhodes.
To equip him to do his research, the WWF Nedbank Green Trust funded 40 camera traps and the university funded 20 out of a total of 70, which were key for the study. "To give you an idea of how elusive these leopards are, out of 12 000 photos taken by our camera traps between March 2011 and August 2012, only 164 were of leopards," Mann said.
Other animals caught on camera included indigenous antelope and smaller predators such as honey badgers, African wildcats and caracal.
The camera traps were set up along routes used by the leopards, and checked by him on a regular basis. He lived in an old farm manager's house on Groenefontein Nature Reserve near Calitzdorp for the duration of his PhD.
"Camera traps are particularly useful in leopard research because each leopard has its own unique spot pattern and we use this to identify individual leopards," Mann said. "This is important for a number of reasons. Firstly, if we get photographs of the same individual at several different locations, then we can start to get an idea of that leopard's territory. But the main benefit of camera traps is that they allow us to estimate the size and density of the leopard population in a certain area.
"This is obviously of major importance in our efforts to conserve leopards, and by doing repeated camera trap surveys every few years we will be able to track any changes in the leopard population."
Mann was fortunate to photograph 29 different leopards in the study area, where the population averages at 0.75 leopards per square kilometre.
It is one of the lowest population densities in the country, comparable with densities in the Kalahari.
The male Cape leopard is more at risk of being killed because its territories cover far greater areas - between 200 and 1 000km2. By comparison, the average range for a male in the Kruger National Park is 40km2. The average range of the female Cape leopard in the Little Karoo is estimated at between 80km2 and 180km2, while that of Kruger female leopards is between 10km2 and 25km2.
The average life expectancy of the Cape leopard in the greater Gouritz region of the Little Karoo is estimated at between 10 and 12 years.
During the course of the project, Mann collared three male leopards.
"Handling a leopard is one of the most stressful things I have ever done," he said. "You don't want anything to go wrong in the gap between finding them, having the vet dart them to immobilise them, and then weighing, measuring and collaring them [or removing the collar] against the clock - they're down for 30 to 45 minutes."
He added that it was extremely moving to touch these magnificent animals, and to hold their paws, "which are stunning, they are really big and round and almost disproportionately large".
The collars are powered by batteries that last from one year to 18 months, and which take a GPS reading every four hours and store the data. This data was then SMSed to Mann or remotely downloaded by means of a UHF radio datalink.
"The leopards tend to keep to the higher-lying areas, where the cattle roam and where farmers have lost the odd calf, but fortunately these incidents are fairly rare," Mann said.
Click here for Thesis
RARE SIGHTING: Photographs of the rarely seen Cape leopard are helping researchers collect valuable data on the species
Photo by: Gareth Mann
By Heather Dugmore
Source: Weekend Post
Source: Weekend Post
Please help us to raise funds so that we can give all our students a chance to access online teaching and learning. Covid-19 has disrupted our students' education. Don't let the digital divide put their future at risk. Visit www.ru.ac.za/rucoronavirusgateway to donate