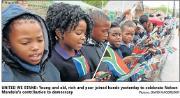 THOUSANDS of Grahamstown residents braved wet and rainy conditions yesterday (Friday, 21 February) to stand together and form a human chain to celebrate Nelson Mandela's contribution to uniting South Africa.
In a chain stretching several kilometres from the impoverished township streets into the business heart of Settler City, young and old, rich and poor joined hands to thank Madiba.
Although rain contributed to some breaks in the human chain, organisers said they hoped the event would grow in years to come and further unite a town built on wars between foreign settlers and indigenous people who lived in the area two centuries ago.
Rhodes University vice-chancellor Dr Saleem Badat told crowds of people who gathered at the Cathedral of St Michael and St George after the human chain was formed they had helped organise the event to try to bridge divides that had existed for years. Admitting the new South Africa was a far better place now than it ever was under apartheid, Badat however said lots still had to be done to improve life for all.
South Africa was still the most unequal society on earth. He said the extremes between the wealthy and the poor, along racial lines, were "incredible". The divide between schools and the quality of education they gave pupils was still a major concern.
He labelled SA the "rape capital of the world", lamenting the fact society did not give enough dignity "to the poor, or gays and lesbians".
Despite the obvious problems, Badat said it was hoped the initiative would help break down these barriers.
Mayor Zamuxolo Peter said the chain had helped unite a city divided on racial lines. "The late President Nelson Mandela himself would no doubt be the first to say that our work of undoing the damage of the past is far from done," he said. "We are on the right track but, if anything, we need to step up our dedication to totally eradicating the most painful legacies of our past."
Residents who took part in the chain yesterday said the event had helped unite the town. Standing hand-in-hand with her five-year-old daughter Zoe, Rhodes academic Mici Halse said it was important to instil a social conscience - especially in children.
Said participant Silvanus Welcome: "Standing in rain for an hour to thank Madiba is nothing compared to the 27 years he spent in jail."
Zimbabwean student Grace Moyo said holding hands with complete strangers was an experience she would not easily forget. "This will help bridge divides," she said.
For 20 minutes, students from private schools and their poor township neighbours stood hand-in-hand with church groups, the homeless, politicians and academics, all hoping things would improve for everyone in years to come.
Story and picture by: David Macgregor
Source: Saturday Dispatch
Caption: UNITED WE STAND: Young and old, rich and poor joined hands yesterday to celebrate Nelson Mandela's contribution to democracy
Source: Saturday Dispatch
Please help us to raise funds so that we can give all our students a chance to access online teaching and learning. Covid-19 has disrupted our students' education. Don't let the digital divide put their future at risk. Visit www.ru.ac.za/rucoronavirusgateway to donate