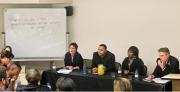 Rhodes University academics and local Non-Governmental Organisations debated the role of the partnership between universities and the community in transforming society. The panellists said that academics need to respect and change their attitudes towards community engagement processes.
The newly appointed Umthathi Training Project Manager, Ms Monica Canca argued that universities come into partnerships with the community stakeholders as 'helping agents'. She said they come into these partnerships having advantage as sources of knowledge which are often associated with power.
She argued that this kind of attitude is not sustainable and needs to change.
Ms Canca said the universities see themselves as giving agents and the communities as recipients. She argued that this "creates imbalances".
"Universities send volunteers [students] to do community engagement so they can enrich their academic and social life," she said. She said this kind of partnership is not sustainable because community engagement processes should be about time giving, "not just about volunteering".
"Partnerships are supposed to be a coming together of people and there has to be a recognition that we're coming from different backgrounds," she said. "Communities have to be equally vocal about their circumstances."
Mr Roger Domingo, Director of Gadra Advice and Community Work said that Universities are serious power players in societies.
"In 2009, South African Universities spent over 37 billion rands on active projects," he said. According to him, this shows the influence universities have in the country and in communities.
"When they [universities] engage with the communities, the power recognition lies in universities," he said, agreeing with Ms Canca's assertions.
Opening this discussion topic, Rhodes University's Deputy Vice-Chancellor (Research & Development) Dr Peter Clayton stated that Rhodes University recognises the importance of community engagement. He said that community engagement is the third pillar of the University.
Dr Clayton said there is an increase in volume, impact and visibility in community engagement at Rhodes.
He said the University partnerships with community are not about creating products with the community. "The world is not some research bank material," he said.
Prof Heila Lotz-Sisitka, Murray and Roberts Chair of the Environmental Education and Sustainability said successful engagement between University and community remains a problem.
Referring to the work of French Sociologist, Bruno Letour, she said academics should stop focusing on facts but move to matters of concern.
"We have to think about humans, non-humans, food security and sustainable development trajectories," said Prof Lotz-Sisitka.
Amongst the audience were researchers, students and Rhodes University community partners.
The seminar was hosted by Rhodes University Community Engagement as part of their community engagement's week celebrations last week (8 May 2014)
By Sanele Ntshingana
Photo by: Hlumela Mkabile
Source: Communications
Please help us to raise funds so that we can give all our students a chance to access online teaching and learning. Covid-19 has disrupted our students' education. Don't let the digital divide put their future at risk. Visit www.ru.ac.za/rucoronavirusgateway to donate