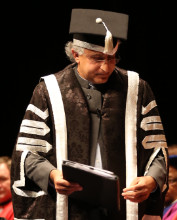 Rhodes University will this year graduate a total of 2 367 students, a new University record, at six graduation ceremonies over the next three days starting today (Thursday 10 April 2014). The graduation ceremonies take place at the 1820 Settlers National Monument in Grahamstown.
Last year, Rhodes graduated 2 288 students.
"Given our total student body of 7 485 students, this is by far the best graduation rate among South African universities," says the outgoing Vice-Chancellor, Dr Saleem Badat.
Of the total graduating 1 286 students will receive undergraduate degrees, and 1 081, or 46% postgraduate degrees. The 46% postgraduate degrees also constitute new University records.
One thousand four hundred and thirteen (1 413) graduates or 60% are women. Five hundred and four (504) students or 21% are international students from 37 countries in the rest of Africa and around the world.
According the Vice-Chancellor, Rhodes is also celebrating a "new record of 71 PhDs – beating the previous record of 63 PhDs of last year – a fabulous achievement for the smallest university in the country!"
"We congratulate our Education and Humanities Faculties for their new records of graduating 14 PhDs and 12 PhDs respectively," says Dr Badat.
"To appreciate the significance of the 71 PhDs," he says, "you have to note that a sister university that is four times our size and has over 30 000 students will award 72 PhDs at its graduation ceremonies."
Yet another record being celebrated this year is – "the award of 286 Masters degrees. One hundred and seven (107) of these Masters degrees are from the Humanities Faculty, establishing a record for the Faculty.
Vice-Chancellor's speech: click here
By Zamuxolo Matiwana
Source: Communications
Please help us to raise funds so that we can give all our students a chance to access online teaching and learning. Covid-19 has disrupted our students' education. Don't let the digital divide put their future at risk. Visit www.ru.ac.za/rucoronavirusgateway to donate