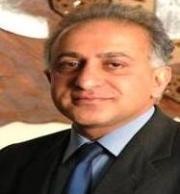 IT is easy to believe that Rhodes University vice-chancellor Dr Saleem Badat wants the last cheque he ever signs to bounce.
Badat, 56, earns an annual salary package exceeding R1.6million. In the past eight years, he has given more than R1.2million to the Jakes Gerwel Rhodes University Scholarship Fund, which he founded in 2006, and plans to donate even more to good causes.
He also relinquished his university perks, including business class air tickets and executive accommodation, instructing the university's council that the cash equivalent be deposited into the fund.
The fund, named after antiapartheid activist Jakes Gerwel, has in excess of R2-million.
Badat, who recently announced his resignation as the head of Rhodes, will be joining the US-based Andrew WMellon Foundation as programme director for international higher education and strategic projects. Barely had the ink on his new contract dried when he began negotiating with the foundation, which provides financial support to some of South Africa's leading research universities, to back his latest philanthropic endeavour.
"For every dollar I contribute from my salary, the foundation will provide $3 for worthy causes. So if I contribute $10 000 of my salary, the foundation will give $30 000."
Although the Jakes Gerwel Rhodes University Scholarship Fund has supported only one student in eight years, he said he had been allowing it to grow to ensure its sustainability.
"The plan is to use only about 4% per annum. If we use about R80 000 a year, this fund will never be depleted," said Badat.
Old Mutual has pledged to fund 15 full scholarships through the fund.
Badat's colleagues are also donating.
Raised in a middle-income family in Durban, he matriculated from the Orient Islamic School in 1974 before enrolling at the University of KwaZuluNatal, where he graduated with a degree in social sciences. In 1981, he was awarded a scholarship to study further at the University of Cape Town.
He went on to study at Boston University in the US before obtaining a doctorate in sociology from the University of York in the UK.
Badat worked at the University of the Western Cape for 10 years as director of the education policy unit.
"I have no doubts about how important scholarships are for talented students, whose only drawback in life is that they don't come from rich families that can support them," he said.
In 2006, when he was appointed as the head of Rhodes, Badat set about creating the Jakes Gerwel fund.
He has written a number of books, the royalties of which he donated to community organisations.
By Simpiwe Piliso
Source: Sunday Times
Caption: GENEROUS: Saleem Badat believes in scholarships
Source: Sunday Times
Please help us to raise funds so that we can give all our students a chance to access online teaching and learning. Covid-19 has disrupted our students' education. Don't let the digital divide put their future at risk. Visit www.ru.ac.za/rucoronavirusgateway to donate