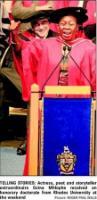 More than 2 000 graduates
SCIENCE, says Nobel Prize winner Dr Syndey Brenner, is about having new ideas and exploring and testing them, not about bureaucracy, committees, tenure and grants.
Speaking at the final graduation ceremony at Rhodes University, where he was awarded an honorary doctorate in science, the feisty 87year-old said universities were society's top means to determine the future.
"The future is about allowing people to open the door to new challenges ... we are all equal, from the youngest graduate to the oldest professor because we are all ignorant. That is why science is important."
He said the graduating scientists were joining one of the most important groups in society.
"We have learnt that magic doesn't work and religion is unreliable. Only science works."
The South African-born Brenner, who was awarded a Nobel Prize for Physiology/Medicine in 2002, was awarded the Rhodes honorary doctorate for his involvement in the coelacanth genome-sequencing project, which involved experts from 40 institutions around the world.
Author, poet, actress and storyteller extraordinaire Gcina Mhlophe was also awarded an honorary doctorate at the weekend.
Mhlope has been writing and performing on stage and screen for 24 years and was recognised for her significant contribution to the revival of the African storytelling tradition.
Mhlophe has 18 books to her name, including children's books, adult poetry, short stories and plays, published all over the world and translated into German, French, Italian, Portuguese, Swahili and Japanese. A thrilled Mhlophe said it was a challenge to create new traditions such as telling and retelling inspiring stories of the powerful work done by fellow South Africans.
"Rhodes not only honours us today, it also tells the nation about us - ordinary South Africans who work with passion and commitment. For us it is not just work, it is a calling."
South African-born world-leading mathematical physicist Professor Neil Turok, who was awarded a Doctor of Laws for his enormous contribution to his field, said South Africa was the most exciting country in the world. "It has a vibrancy of spirit. Africa is a 'coming continent'. It is long overdue but its time is coming."
Turok, son of struggle stalwarts Ben and Mary Turok, heads up the Perimeter Institute for Theoretical Physics, in Ontario, Canada.
He said his parents being jailed had showed him "if you fight for something that is right and if you never give up - and they didn't ... it taught me the meaning of a commitment to a cause bigger than yourself, to the future to humankind, to others. This kept me going throughout my career."
Turok stressed the need to reactivate a love of mathematics in Africa, where it originated.
"Mathematics is a peculiar science. It is the language of the universe. Through mathematics we can understand the forces of nature and one can predict and make use of those forces to make society and the planet a better place."
A record 2 367 Rhodes students graduated at six packed ceremonies at the weekend.
By Adrienne Carlisle
Picture: Roger Paul Mills
Caption: TELLING STORIES: Actress, poet and storyteller extraordinaire Gcina Mhlophe received an honorary doctorate from Rhodes University at the weekend
Source: Daily Dispatch
Please help us to raise funds so that we can give all our students a chance to access online teaching and learning. Covid-19 has disrupted our students' education. Don't let the digital divide put their future at risk. Visit www.ru.ac.za/rucoronavirusgateway to donate