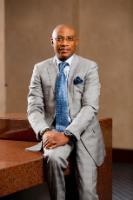 THE Rhodes University council has elected its first black chairman.
The election of alumnus Vuyo Kahla comes on the heels of the resignation of the institution's first black vice-chancellor, Dr Saleem Badat.
Rhodes University spokesman Zamuxolo Matiwana said the election of Kahla took place after veteran council chairman Judge Jos Jones stepped down last week after 18 years.
Kahla, 42, is a member of the group executive committee of Sasol Limited and holds the positions of a group executive and company secretary.
In this capacity, he has global executive responsibility for legal services, compliance, intellectual property services, risk management, assurance services, company secretarial services, and the group ethics office.
He is also a director of a number of Sasol group companies and has worked in key positions at Transnet and was also assistant legal adviser to the late president Nelson Mandela. Kahla graduated from Rhodes with BA and LLB degrees in 1994 and 1996 respectively, according to the business webs ite IG.com.
"Mr Kahla brings with him extensive leadership and global executive experience straddling the corporate and education sector," Matiwana said. Kahla had served the university as a member of both the council and board of governors.
He has also made contributions to the education sector including chairing the Council of St John's College in Johannesburg, being a member of the University of South Africa council and executive committee, and the committee responsible for audits.
According to Matiwana, the council chairman position is not full-time and Kahla will not be based in Grahamstown. As council chairman he is expected to play a key role in selecting Badat's successor.
Rhodes University registrar Dr Stephen Fourie thanked Jones for the "extraordinary" times during which he had served. He said Jones had become council chairman at a very difficult time and that he had made an incredible contribution to the university.
Kahla said he was "most humbled by the trust and honour bestowed on me" to succeed Jones.
Badat will be moving to New York later this year to take up a newly created post with the Andrew W Mellon Foundation where he will oversee and direct the foundation's international grant-making and ongoing programmes in South Africa.
By Herald Reporter
Source: The Herald newspaper
Photo: Mr Vuyo Kahla
Source: The Herald newspaper
Please help us to raise funds so that we can give all our students a chance to access online teaching and learning. Covid-19 has disrupted our students' education. Don't let the digital divide put their future at risk. Visit www.ru.ac.za/rucoronavirusgateway to donate