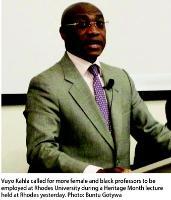 Rhodes University needs more black and women professors.
Describing Rhodes as being "peppered with contradictions", the University Council's chairperson Vuyo Kahla addressed an attentive audience at the Eden Grove Red lecture theatre on Thursday 18 September.
The lecture was to celebrate Heritage Month, with heritage as its theme.
Kahla spoke about the University's rich heritage and distinct identity.
Kahla engaged the audience on the "seasons" the University has had to travail in the 110 years of its existence, highlighting that it currently finds itself "peppered with contradictions".
He emphasised that it is the institution's role to produce knowledge that will transform South African society.
"We are in the pursuit and production of knowledge while expunging ignorance," he said.
He emphasised that it was important for Rhodes to pursue the truth and highlight issues inconsistent with the values it is meant to uphold.
While a university was a public commentator on various issues, it must always be objective, he said.
"Rhodes is where leaders learn; therefore we should provide that leadership," Kahla said.
A member of the audience asked Kahla where he sees the institution in 10 years.
Kahla said he would like to see women and black people being encouraged to be participators in academic life.
"We need to deal with the lack of transformation in academia. We need more professors," he said.
He also encouraged student bodies to co-operate to ensure they tackle issues affecting students both rich and poor.
In concluding Deputy Vice-Chancellor for academic and student affairs, Sizwe Mabizela, said to Kahla, "Thank you for reminding us that we need to reflect about where we come from."
"Graduates should be imbued with citizens' values that can make us worthy of our communities," Mabizela said.
"We need to fashion a caring, equitable society that is respectful of human rights and dignity."
By Sibonelo Gamnca
Photo: Buntu Gotywa
Source: Grocott's Mail
Source: Grocott's Mail
Please help us to raise funds so that we can give all our students a chance to access online teaching and learning. Covid-19 has disrupted our students' education. Don't let the digital divide put their future at risk. Visit www.ru.ac.za/rucoronavirusgateway to donate