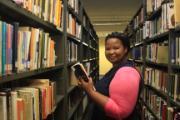 A HARD working Rhodes University English masters graduate has recalled how she broke down in tears when told she had been awarded a prestigious scholarship to study in England.
Although 27-year-old Thando Njovane told the Daily Dispatch she always dreamed of furthering her PhD studies in child-focused trauma fiction at York University, she admitted she had no idea how she would come up with the cash to get there.
But that all changed when vice-chancellor Dr Saleem Badat told her she had been awarded the Flanagan Scholarship.
"You don't think such good things will happen in life," Njovane - who was raised by her cash-strapped mother in Lusiksiki - recalled.
Njovane said even though she matriculated from Port Shepstone High School with a university exemption, getting into university was difficult.
"Making it into university was, however, not easy - particularly when it came to finances, but my mother always made a plan - and I have also worked throughout my studies."
Njovane hopes to use her experiences to motivate others to work hard to achieve theirs.
"I hope to inspire other black students who come from poor backgrounds to believe they can achieve anything through hard work."
Once she has completed her overseas PhD, Njovane hopes to do postdoctoral research and publish her findings before teaching and conducting more research.
"I would also like to get involved in literacy initiatives aimed at children of schoolgoing age."
Njovane praised her Rhodes University supervisor Sue Marais for having faith in her field of research - and going the extra mile to help her realise her dreams.
Several highly prestigious postgraduate international scholarships are offered through the Research Office of Rhodes University, including the Flanagan, Rhodes Trust and Commonwealth Scholarships.
According to Rhodes University spokesman Zamuxolo Matiwana, The Patrick and Margaret Flanagan Scholarship was bequeathed to South African women scholars in the 1982 will of the late Margaret Flanagan - who recognised the need for South African women to be educated and given the opportunity to pursue postgraduate studies in any field of study at leading international universities.
Matiwana said Flanagan wanted preference to be given "to women of South African descent, without restriction as to creed or colour".
Of the 30 candidates who have been awarded this Flanagan Scholarship since its inception in 1985, 13 are Rhodes University graduates.
By David Macgregor
Source: Daily Dispatch
Caption: STUDYING HARD: Prestigious scholarship winner Thando Njovane is hard at work in the Rhodes University library Picture: Stephen Penney
Source: Daily Dispatch
Please help us to raise funds so that we can give all our students a chance to access online teaching and learning. Covid-19 has disrupted our students' education. Don't let the digital divide put their future at risk. Visit www.ru.ac.za/rucoronavirusgateway to donate