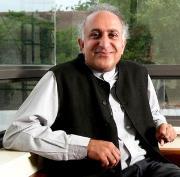 Thuli held up for recent 'magnificent performance'
Too many in power used the state as their private piggy bank, putting strain on key democratic institutions. This was the warning from outgoing Rhodes University Vice-Chancellor Dr Saleem Badat yesterday.
Speaking at the first of the university's six graduation ceremonies, Badat said hunger, poverty and unemployment continued to blight the democracy. "Millions are mired in desperate daily routines of survival while - alongside - thievery, unbridled accumulation and crass materialism run rampant." But, he said a relatively independent judiciary, free media and autonomous universities remained intact.
"Witness in this regard the magnificent performance of the public protector's office under Thuli Madonsela." While there had been many significant economic and social gains in the past 20 years, contemporary realities compromised the constitutional ideal of real citizenship rights for all. South Africa was now the most unequal society on earth.
"The poorest 20% receive a measly 2.7% of national income and obtain 55% of their income through social grants. The top 10% take home 52% of national income." Patriarchy and sexism stifled girls and women. "Gender violence is a pervasive, morbid ill that destroys innumerable lives through rape and abuse of women, and so-called 'corrective' rape of gay and lesbian people."
The country's problem-plagued schooling system stopped youth from fulfilling their potential. The fact that some 2.8-million - over 40% - of people between 18 and 24 were not employed or in education or training was a social and economic disaster. Badat warned that while it was necessary to energetically undo the huge social inequalities left by apartheid, using race to do so could cause further problems.
"Our strategies must erode and dissolve racial thinking and categories and permit rich, multiple, fluid and dynamic identities to emerge rather than ones frozen along 'race' lines. We should never lose sight that the fundamental goals are to build a genuinely non-racial and non-sexist society in which all can flower." He sharply criticised the growing tendency to silence government critics on the basis of questioning their struggle credentials.
"It is our obligation to 'speak truth to power' when those with economic and political power have to be reminded of their responsibilities and be rebuked for looting public resources and unethical and immoral conduct." But he urged the graduates to avoid despair and remain optimistic. "It is to you that we look to lead, to re-imagine and reshape our future, to forge just and humane ways of conducting our affairs, and to ensure that reason, people, human development and social justice are at the heart of all of our conduct and actions."
Over the next few days a record 2 367 Rhodes students will graduate. Badat said this gave the tiny university - with its student body of 7 485 students - by far the best graduation rate of all South African universities. He said 1286 students would receive undergraduate degrees, and a whopping 1081 postgraduate degrees. Of the total, 1413 graduates (60%) were women. The university will also award a record 71 PhDs over the weekend, which Badat described as "a fabulous achievement for the smallest university in the country".
By: Adrienne Carlisle
Article Source: DAILY DISPATCH (Final Edition)
Source: Daily Dispatch
Please help us to raise funds so that we can give all our students a chance to access online teaching and learning. Covid-19 has disrupted our students' education. Don't let the digital divide put their future at risk. Visit www.ru.ac.za/rucoronavirusgateway to donate