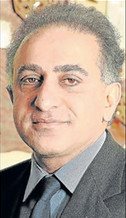 Foundation funds higher education in SA.
Rhodes University vice-chancellor Dr Saleem Badat moves to New York later this year to take up a newly created post with the prestigious Andrew W Mellon Foundation.
Although Badat leaves South Africa he is not lost to local higher education as part of his new job is to direct the foundation's international grantmaking programme in South Africa. Foundation president Dr Earl Lewis made the announcement in New York yesterday.
On Monday, tongues were wagging after Rhodes broke the news of his intention to leave before the year was up. Badat, who became the first black vice-chancellor in 102 years at the university eight years ago, yesterday said he was unavailable to comment on his new post as he was "going into a meeting". But on Monday he said the demands of being vice-chancellor had been "great" as he usually clocked up 80 hours plus of work-time a week and was looking forward to spending more time with his partner and sons.
According to Dr Lewis, the Mellon Foundation was excited to have a leader and scholar of Dr Badat's calibre join them. "He will bring a wealth of knowledge, expertise and experience." Over the past two decades the foundation has provided almost $120-million (around R1.3-billion) of financial support to South African universities and cultural institutions.
Lewis said the main goal of the foundation was to develop capacity in higher education by providing opportunities to the previously disadvantaged and those who have demonstrated a commitment to the previously disadvantaged. "Support for South African higher education and specifically for the arts and humanities will continue to be a major priority," he said. Badat will be based at the Mellon headquarters in Manhattan.
He assumes his post in late 2014 and will travel to South Africa regularly for Mellon grantmaking activities. Lewis said Badat would join a distinguished advisory panel to guide a multi-year effort to develop knowledge and collect and disseminate information about the value of diversity in various domains. The panel will produce an annual summary of the best research findings on the value of diversity from a variety of perspectives and is intended to provide scholars, academic leaders, legal experts, policy makers, business executives and others with a "state-ofthe-field" assessment.
Besides South Africa, the Mellon Foundation also supports similar programmes in the United Kingdom, Canada, France, China and other parts of the world. Badat spent a decade at the University of Western Cape, where he was the director of the education policy unit, before being appointed in 1999 as CEO of the Council on Higher Education, which advises the Minister of Higher Education and Training on higher education policy issues.
He became vice-chancellor of Rhodes University in June 2006.
By DAVID MACGREGOR
Article Source: DAILY DISPATCH (Final Edition)
Source: Daily Dispatch
Please help us to raise funds so that we can give all our students a chance to access online teaching and learning. Covid-19 has disrupted our students' education. Don't let the digital divide put their future at risk. Visit www.ru.ac.za/rucoronavirusgateway to donate