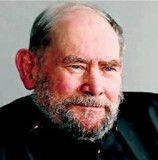 Global study unlocked key secrets
A South African-born scientist's research into genetics over the past 60 years was a key to unlocking the genomic DNA of the coelacanth last year.
Nobel prize winning Dr Sydney Brenner, 87 - who will receive a Rhodes University honorary degree tomorrow - was instrumental in getting the 10-year long coelacanth genome sequence off the ground. The project involved experts from 40 institutions around the world. Co-authored by 100 top scientists, the first research results of this unique collaboration were published one year ago in the international journal, Nature - spawning more global research in a range of fields.
Rhodes University based Professor Rosemary Dorrington said since the research was published it has cited in 62 publications. Dorrington co-proposed researching the genomic DNA of the coelacanth soon after a colony was discovered in Sodwana in 2000 and immediately asked Brenner for help. "Brenner said evolution is not about finding new genes but about finding new ways to use old genes and this is really true," she said. Dorrington - a SA Research Chair in Marine Natural Products researcher in the microbiology department - said the coelacanth was a "time capsule" of old genes that had been used in a new way.
She said although the joint research took 10 years to complete, it would have taken 150 years if they had not roped in global help. Without Brenner, who still publishes his work in top journals aged 87, the ambitious research project might not have seen the light of day. According to Dr Adrienne L Edkins of the Rhodes Biomedical Biotechnology Research Unit, the collaborative findings published last year was just the start of bigger things in the scientific world. "It is far more wide reaching than just the [coelacanth] genome sequence. "Essentially it's the end of the beginning.
What we have now is the recipe book of the coelacanth [and] when we look at it we see how similar it is to the recipe that makes humans." The findings have provided more opportunities for scientists to follow. "It is now available for anyone to study and many scientific fields can do specialised work because of the sequence." She said working on a project lieso large for such a long time was the chance of a lifetime.
"It all started in Grahamstown and expanded into a truly global collaborative project." An iconic species that is not easily accessed in the wild and is critically endangered, some scientists generated the genetic sequence for others to analyse. Edkins said at the start of the project the coelacanth was thought to sit between sea creatures with fins and their transition to land animals with limbs.
"The coelacanth was believed to be the closest living link to animals who moved from sea to land that would tell us about the evolutionary process." But it was later established that the genome evolved slower than other organisms and was not the closest living fish to land animals.
This honour goes to the lungfish but it has such an enormous genome that it is even more difficult to work out. Brenner will receive an honorary Doctor of Science (DSc) degree tomorrow in Grahamstown. — davidm@dispatch.co.za
Caption: Dr Sydney Brenner Picture: FILE
By: David Macgregor
Article Source: DAILY DISPATCH (Final Edition)
Source: Daily Dispatch
Please help us to raise funds so that we can give all our students a chance to access online teaching and learning. Covid-19 has disrupted our students' education. Don't let the digital divide put their future at risk. Visit www.ru.ac.za/rucoronavirusgateway to donate