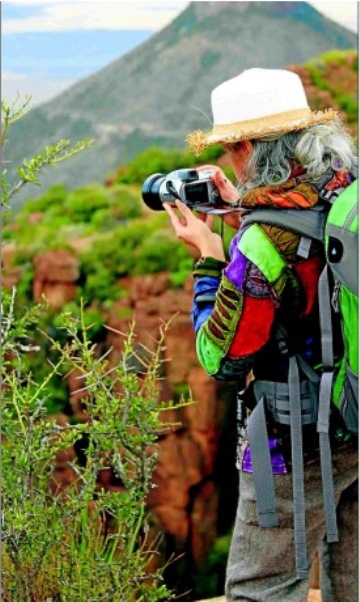 THEY may only have a handful of members but this has not stopped a group of Grahamstown eco-activists from scooping a top award.
The 50 volunteers at the Grahamstown Wildlife and Environment Society of South Africa (Wessa) branch were honoured at the recent national annual awards and judged the best branch in the country.
According to the citation, the Grahamstown branch - which comprises academics and concerned residents - was honoured for their unassuming yet inclusive way of solving environmental challenges locally and throughout the province.
"Working with Rhodes University and with various interest groups the highly respected members of this branch are the unsung heroes of many significant developments in the natural science and environmental education fields," Wessa national office said.
Branch chairwoman Margaret Crampton yesterday said a major factor behind their success was having dedicated core members, including people who had joined when it was started in the 1970s.
"The Wessa Grahamstown branch has always enjoyed a loyal, committed, lively, highly qualified and enthusiastic committee since its inception.
"Newcomers join with new ideas and bring in new activities but they join a committee dedicated to service to the environment and conservation."
She said the branch had proved itself to be sustainable over time and yet responsive to the changing environmental needs of the community it serves.
Another reason behind their success came from forming community partnerships that included working with schoolchildren to remove alien vegetation, taking them on trips to game parks and helping to save water in crisis-hit Grahamstown.
In partnership with Rotary Grahamstown Sunset, the local Wessa branch will take 80 children to Addo Elephant Park on a field trip next week.
"For most of these children it will be the first time they will have done anything like this and we have planned a really exciting experience for them," Crampton said.
They also support the Working for Water project, the Kowie Catchment Campaign and Makana's municipal grounds and gardens department to rehabilitate areas affected by alien plants to promote the flow of fresh water and greening of Grahamstown.
"Springs are running and dams are filling with clean fresh water, which is gratifying, but there is a great deal more to do."
Although things are happening Crampton said more could be done to raise awareness and appreciation of the pristine environment "we are privileged to enjoy" around Grahamstown through education, exposure and exploration.
"Once people have an appreciation and value what is natural, the natural next step is to protect it, foster it, save it and promote it." — davidm@dispatch.co.za
FIELD TRIP: A member of the award-winning Grahamstown branch of the Wildlife and Environment Society of South Africa snaps a photo at the Valley of Desolation Picture: AMAN BLOOM
Article by: David Macgregor.
Article Source: The Daily Dispatch.
Source: Daily Dispatch
Please help us to raise funds so that we can give all our students a chance to access online teaching and learning. Covid-19 has disrupted our students' education. Don't let the digital divide put their future at risk. Visit www.ru.ac.za/rucoronavirusgateway to donate