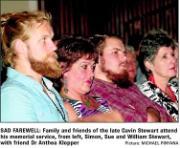 A MENTOR, father figure and a fine human being were some of the words used to describe former Daily Dispatch editor Gavin Stewart by speakers at his memorial service yesterday.
Hundreds of people gathered at the Guild Theatre in East London to remember Stewart. who died last week aged 71 from a sudden, aggressive cancer.
He passed away in Cape Town's Blaauberg Hospital surrounded by his wife, Sue Morrell Stewart, sons Simon and William and daughters Kate and Megan.
Some of the speakers at the service included Dispatch editor Bongani Siqoko, Rhodes University journalism department director Reg Rumney and Black Management Forum's Archie Nkonyeni.
"He was not just an editor, he was a mentor and a father figure," Siqoko said.
Stewart was appointed editor of the Daily Dispatch in 1993. He vacated the editor's seat in 2004 but remained active in the SA National Editors Forum, of which he was a founder member.
He served as a respected media freedom commentator and worked as a freelance editor and columnist.
He also continued to lecture at Rhodes and Walter Sisulu universities and was a regular voice on SAfm's The Editors.
"He had a real impact on journalism," Rumney said.
To honour Stewart's memory Times Media Group, owners of the Dispatch, together with Rhodes University, have established a bursary named the Daily Dispatch Gavin Stewart Journalism Bursary.
"The bursary will be awarded to an outstanding student to study the fourth-year B-Tech journalism at Rhodes University," Siqoko said.
The Dispatch's editorial floor will also be named the "Gavin Morkel Stewart floor".
Those who reminisced about the time they had spent with Stewart included Transnet National Ports Authority's Terry Taylor, writer Denise Fielding, and Aniela Batschari and Siphe Macanda from Walter Sisulu University media studies. Stewart's long-time friend Peter Vale also spoke.
Speaker after speaker all agreed that Stewart was a great and honourable man who will be sorely missed.
Stewart's domestic worker of 15 years before he left for Cape Town, Cordelia Pilani, gave a heartfelt speech.
"I have lost a father and a mother," said an emotional Pilani. who said Stewart had helped her build her house in Scenery Park.
One of Stewart's sons said the family planned to scatter his ashes somewhere in the Eastern Cape.
SAD FAREWELL: Family and friends of the late Gavin Stewart attend his memorial service, from left, Simon, Sue and William Stewart, with friend Dr Anthea Klopper
By Aretha Linden
Picture: Michael Pinyana
Source: Saturday Dispatch
Source: Saturday Dispatch
Please help us to raise funds so that we can give all our students a chance to access online teaching and learning. Covid-19 has disrupted our students' education. Don't let the digital divide put their future at risk. Visit www.ru.ac.za/rucoronavirusgateway to donate