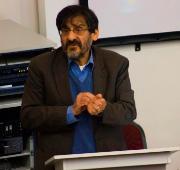 Describing the intractable conflict between Israel and Palestine as comprising the best illustration of the greatest gap between reality and mainstream accounts of the violence, Professor Steven Friedman challenged contemporary accounts, saying that "truth is often the first casualty in conflict".
Prof Friedman delivered a public lecture recently at Rhodes University entitled: Why Memory Matters: Gaza, Recent History and the Campaign Against Truth.
"It seems to me that in any conflict which is fundamentally about domination, which Palestine is, the truth is very often the first casualty. It seems to me that truth is a casualty in this conflict in a very profound way," Prof Friedman argued.
"Having lived through the struggle of apartheid I cannot think of any other example of a conflict in which the divergence between observable reality and mainstream accounts of the conflict has been so wide. The gap between what we read and hear and are told in the mainstream does such great violence to the facts and evidence that one has to ask why this is so," he said.
Prof Steven Friedman has worked as a trade unionist, journalist and academic and is a highly regarded public intellectual. He currently directs the Centre for the Study of Democracy which is a combined project of Rhodes University and the University of Johannesburg.
Over the last decade he has concentrated on the relationship between democracy, social inequality and economic growth and stressed the role of citizen voices in strengthening democracy. He is widely regarded as one of the most respected political intellectuals and theorists in the country.
In "Why Memory Matters: Gaza, Recent History and the Campaign Against Truth" Prof Friedman suggested that Hamas have been offering ceasefire and truces since1997. He said Hamas has been repeatedly ignored by the Israeli government and that the news media are complicit in a broad misrepresentation of reality.
"On one level the story is very simple – it is not often understood that whatever biases the media may have, the reality which shapes the coverage of all conflict is sheer bullying, a very unsubtle and crude process."
A strong supporter of rights for Palestinians and a proponent of a one state solution in Israel and Palestine, Prof Friedman used two themes in Jewish ethics to illustrate why he believes the coverage to be misrepresenting and "divorced from reality".
"It is impossible to see this any longer as conflict between two warring groups who just can't get on with one another. This is about a group of people deciding that the only way of controlling is by creating ethnically exclusive state by force," he said.
Ideally, both parties, in the case of Israel and Palestine, should work at resolving their differences, but this "is not possible because it is not the reality of Gaza.
"We are not dealing with two groups who can't find one another; we are dealing with one group who dominates the other in brutal ways and refuses to contemplate the end of the domination. Yet we continue to see accounts in which the relations of domination are never mentioned. The only way to refrain from mentioning domination is to do some very serious violations to the truth," added Prof Friedman.
By Sarah-Jane Bradfield
Photo by: Hlumela Mkabile
Source: Communications and Marketing
Please help us to raise funds so that we can give all our students a chance to access online teaching and learning. Covid-19 has disrupted our students' education. Don't let the digital divide put their future at risk. Visit www.ru.ac.za/rucoronavirusgateway to donate