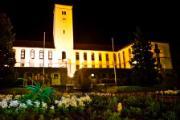 A PRESTIGIOUS bursary set up in memory of a Grahamstown community activist has been awarded to two Rhodes University students.
Normally awarded annually to one deserving local post-graduate student, history was made when two students were recently each given a R30 000 Thelma Henderson bursary.
Henderson, wife of a former Rhodes University vice-chancellor, Dr Derek Henderson, spent decades helping marginalised people through the Grahamstown and Area Distress Relief Association (Gadra), which she helped to establish.
Gadra Education manager Ashley Westaway yesterday said Fundiswa Magida and Sonwabile Witbooi had both been awarded bursaries after no suitable recipient was found last year.
He said people awarded the bursary "needed to show and reflect the spirit and generosity of Thelma Henderson".
"Last year we were not adequately satisfied they [applicants] met the package of criteria."
Instead of just handing the bursary to anyone, a decision was taken to hold it over to this year - and award two instead.
Magida and Witbooi, who both did an extra year matric school with Gadra Education in 2009 to improve their marks and get into university, are both studying towards a post-graduate certificate in education at Rhodes.
Witbooi, 23, yesterday said although his father Jim died several years ago without seeing his youngest child go to study at university, he knew he would be proud of him winning the prestigious bursary.
Witbooi said losing the family breadwinner when he was only 15 had made life at home tougher but they had pulled through thanks to monthly financial contributions from his older brothers. He said at least his unemployed mother Nobuntu was around to see what he achieved.
Although Witbooi and his father both dreamed he would go to university one day, he may not have made it if he had not decided to go to Gadra Education matric school to improve his maths and English marks for a year after he matriculated.
After completing an extra year of matric and still not obtaining enough points to get into Rhodes, Witbooi was accepted into a groundbreaking four-year degree programme aimed at giving students who would normally have fallen through the cracks a second chance.
According to Westaway the selection panel was impressed by the character, life story and academic journey of both recipients.
The duo epitomised the "magnanimous, determined spirit" of Henderson - who died in 2009.
Westaway said the annual bursary was made in recognition of her "remarkable life and work" that had made a huge impact on the lives of many in Grahamstown over the 31 years she served as chair.
More than 80 000 needy people were helped and more than R27-million raised to fund projects during her time at the helm.
By David Macgregor
Source: Daily Dispatch
Source: Daily Dispatch
Please help us to raise funds so that we can give all our students a chance to access online teaching and learning. Covid-19 has disrupted our students' education. Don't let the digital divide put their future at risk. Visit www.ru.ac.za/rucoronavirusgateway to donate