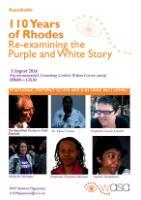 On National Women's Day (9 August 2014), the Women's Academic Solidarity Association (WASA) at Rhodes University will host a colloquium entitled, Unheard Rhodes histories, to interrogate the history and position of women in Higher Education, especially at Rhodes University as part of its 10th Anniversary celebrations.
"We seek to go beyond counting numbers of women in the past 110 years of Rhodes Colour Purple and White Story. We seek to provide a space for personal narratives and possible explanations of hidden stories of women before and since WASA's inception as the voice of women at Rhodes," said WASA Co-Chair, Ms Babalwa Magoqwana.
"This colloquium hopes to influence the institutional transformation agenda while contributing towards public debate on the position of women in the academy. To recount the stories and narratives of 'hidden voices' in 110 years of Rhodes University, WASA hopes to excavate women's histories at Rhodes to make visible ruptures and continuities, and to celebrate their [women's] contribution to the 10 years of WASA," she added.
Some of the speakers include a keynote address entitled: "Rhodes University History: A Reflection" by Prof Paul Maylam and Dr Thami Tisani [Rhodes Alumni] who will speak on the "The Black Scholar in the Purple and white story in the 1970's".
WASA aims to interrogate Rhodes' space and history which has shaped the conditions under which it was formed. WASA was formed at Rhodes University in 2004 during the centenary celebrations.
At the time of formation, it recognised that the misrecognition of women's contribution takes place at various sectors such as the public and private sector and higher education.
By Zamuxolo Matiwana
2014 WASA August Roundtable programme
Source: Communiations and Marketing
Please help us to raise funds so that we can give all our students a chance to access online teaching and learning. Covid-19 has disrupted our students' education. Don't let the digital divide put their future at risk. Visit www.ru.ac.za/rucoronavirusgateway to donate