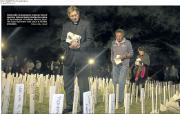 RHODES University acting vice-chancellor Dr Sizwe Mabizela at the weekend expressed his utter disgust at the killing of Palestinian children at the hands of the Israeli defence force.
Mabizela was speaking at a candlelight vigil held on the university's Drostdy lawns in solidarity with Palestinians who have lost more than 400 children in Israeli strikes on Gaza.
The names of Palestinian children killed in the conflict were written on hundreds of white plaques lining the green turf in front of the university administration block.
Mabizela said the Palestinians were enduring one of the most atrocious attacks ever visited on a people.
"We are here to express our utter disgust with the systematic extermination of the defenceless people of Gaza," he said.
"How is it that innocent children can be deemed as legitimate targets by the Israeli defence force?"
Schools, hospitals and United Nation facilities in Gaza had all come under fire.
"How long must the people of Palestine suffer under the bondage of Israel? How long must we remain silent in the face of the wanton destruction of homes, schools and hospitals?"
Silence was tantamount to complicity in the systematic extermination of the Palestinians, he said.
Mabizela also condemned the Obama administration for what he termed its support of the killing of the Palestinian people.
"We demand the immediate cessation of indiscriminate and brutal attacks on the defenceless people of Gaza.
"We condemn the senseless irrational and inhumane collective punishment of people of Gaza and we demand the immediate unconditional lifting of the blockade."
He said Palestinians had the right to a free, independent and sovereign state where they could live in peace and dignity.
"We should spare no effort until this objective is realised."
Professor Achille Mbembe from the Wits Institute for Social and Economic Research described Gaza as an open prison where millions of Palestinians were incarcerated.
"They need to be set free."
Dr Irene Callis, a Palestinian activist and a visiting lecturer in the Politics and International Studies department at Rhodes said the world had deeply failed the Palestinian children, many of whom had been brutally murdered.
"But the ultimate cost of our failure is the manner in which you are forced to live.
"Each year of your brief lives, we did not end your suffering and it continues still.
"We fail our own humanity in debasing yours.
"In 60 plus years this failure has become systemic."
Grahamstown dean of the Anglican Church the Reverend Andrew Hunter said a moving prayer.
As the vigil got underway at Rhodes, the three-day truce between Israel and Palestinian militants ended. Five Palestinian people were reportedly killed in Israeli air strikes on Gaza on Friday evening, including three children.
By Adrienne Carlisle
Source: Daily Dispatch
HUGE LOSS: Grahamstown Anglican Church dean Rev Andrew Hunter studies the names of the hundreds of children killed in Gaza. The Gaza vigil event took place at Rhodes University
Picture: CARLA FULLER
Source: Daily Dispatch
Please help us to raise funds so that we can give all our students a chance to access online teaching and learning. Covid-19 has disrupted our students' education. Don't let the digital divide put their future at risk. Visit www.ru.ac.za/rucoronavirusgateway to donate