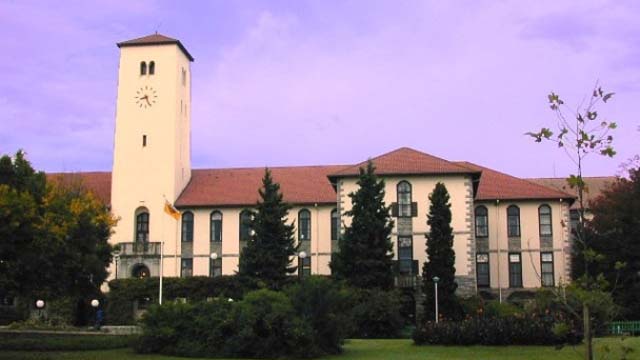 At approximately 17:00 yesterday, 19 April 2016, police came to the protest site at the intersection of Prince Alfred and Somerset Streets, where protesting students had gathered in large numbers. A verbal agreement was reached between members of senior management and the SAPS, that the police would withdraw provided that protesting students remained on campus.
The Vice-Chancellor tried to address students outside the Drama Department at 19:00 last night, but students refused.
Later in the evening, at around 23:00, a large group of students gathered at the Drama Department and proceeded to Piet Retief House in search of a student whose name had been shared on social media. When denied access to Piet Retief House, students threatened the warden and attempted to gain forced entry to the residence.
By 07:00 this morning, barricades had been erected blocking access to campus.
At 08:00 police arrived to open access to Lucas Avenue which had been barricaded by protesting students. Following an instruction from the police to move back from the barricades, an altercation ensued between protesting students and the police. A that point two students were arrested.
A short while later in South Street, there was a further clash between police and protesting students and a further four students were arrested.
While the Vice-Chancellor was at the police station attending to this matter, his office was trashed, furniture was upturned and papers strewn across the floor.
The academic project has been suspended for today, 20 April 2016, for the safety and security of all students, staff and University property. Essential services will remain in place which include provisions for meal arrangements and counselling services.
Full details of recent events on campus Update on #RUReference List
Source: Communications and Marketing
Please help us to raise funds so that we can give all our students a chance to access online teaching and learning. Covid-19 has disrupted our students' education. Don't let the digital divide put their future at risk. Visit www.ru.ac.za/rucoronavirusgateway to donate