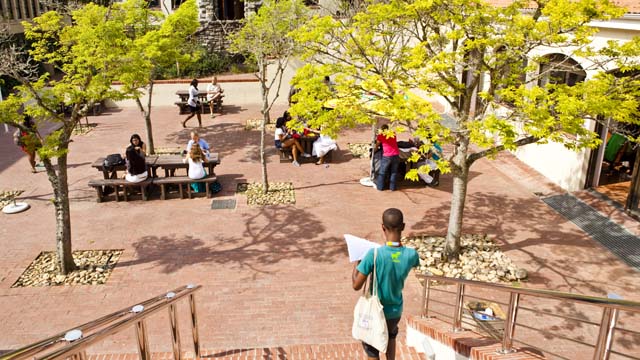 Unfortunately, Rhodes University experienced disruption in the early morning of 5 October 2016. Protesters invaded residences on the upper part of campus while students were sleeping. Fire alarms were set off as the residences were invaded. Tyres and two rain water storage tanks were also set alight in the immediate vicinity.
Protesting students then moved down campus and erected barricades across key access roads. In order to form one barricade, a painting contractor's trailer, which had been parked on a corner of the Drostdy Lawns, was taken and dragged to the intersection of Artillery Road and Somerset Street. It was then toppled and attempts were made to set it alight. Fortunately, the attempts to burn the trailer did not succeed. Another barricade across the bottom of Prince Alfred Street was set alight and reinforced with broken bottles and discarded medical waste, including used needles.
All burning material was extinguished by the Grahamstown Fire Department under the protection of the South African Police Services. No significant damage was sustained to University property.
Despite some disruptions, classes are continuing today.
The University condemns in the strongest possible terms the invasion of student residences, the barricading of campus and, particularly, the malicious and hazardous use of medical waste to form barricades. Investigations are underway to identify the perpetrators, as well as the source of the medical waste. All offenders, when identified, will be brought to justice.
Issued by Communications and Advancement Division
Source: Communications
Please help us to raise funds so that we can give all our students a chance to access online teaching and learning. Covid-19 has disrupted our students' education. Don't let the digital divide put their future at risk. Visit www.ru.ac.za/rucoronavirusgateway to donate