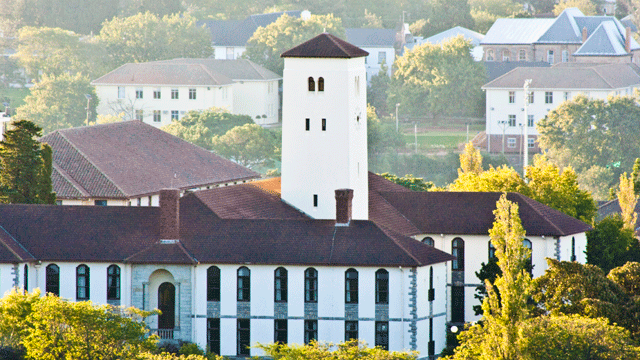 By Tsholofelo Tselaemang
The Journalism industry has changed, the context that higher education institutions are set in has changed, students have changed and so have their teachers. These factors, among others, necessitate curriculum change.
The 11th Rhodes University Curriculum Conversation titled "Between the protests and the imploding journalism industry: a conversation about radical curriculum change" took place on 9 May 2016. The conversation was presented by academics from the Journalism Department, Gillian Rennie and Prof. Anthea Garman, who addressed the importance of a curriculum that is relevant to the contexts that students find themselves in.
"When I started teaching at Rhodes, about ten or 11 years ago, the student was an entirely different person," said Rennie. The Writing and Editing lecturer further added that she used to try to change students to make them fit into the industry but both the industry and students have changed so it has been important to change the way that she teaches.
The presenters touched on the student protest action that took place throughout 2015 and in 2016 and the impact that those protests had on the way in which they approach teaching. The protests seemingly highlighted that higher education institutions are not comfortable for a lot of students and that, teachers have to work to respond to that. It was important to ask the question of who has the right to be comfortable in a class and challenge that, Rennie added.
At the centre of being supportive of students and creating a curriculum that takes their lived experiences into account is the relationship between lecturers and students as well as the importance of seeing students in their entirety, as full human beings.
"For me, it was about getting out of the head," the professor explained, "I had a realisation that the person in front of me is a whole human being, if they are depressed I have to take that seriously."
In response to a question raised by Dr Pamela Maseko, of the School of Languages, regarding how quantity of graduates was valued over quality, which often compromised the quality of the curriculum; Garman commented that the pressure to finish a degree in a set number of years contributes to the obsession with quantity of graduates. That it was important that institutions create processes that take mistakes and failure into account because people's lives are complex.
The professor concluded by saying that above and beyond taking context and students into account when deciding what to include in the curriculum, it was also important that teachers love what they were teaching.
Among those in attendance were academic developers from the Central University of Technology, North West University and the University of Zululand, among others.
Source: Communications & Marketing
Please help us to raise funds so that we can give all our students a chance to access online teaching and learning. Covid-19 has disrupted our students' education. Don't let the digital divide put their future at risk. Visit www.ru.ac.za/rucoronavirusgateway to donate