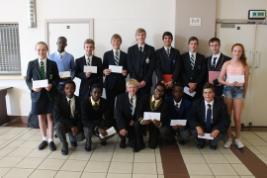 By Anima McBrown
On Friday 19 February 2016, the Rhodes University Mathematics Experience took place in the Barratt Lecture Complex. Two hundred and fifty of the biggest and brightest maths stars from schools in the Grahamstown District gathered to participate in the annual mini maths Olympiad – with various cash prizes and three full bursaries to study at Rhodes University up for grabs.
From Grahamstown East and West, to Kenton and Port Alfred – ours is a local intellectual landscape with immense promise and potential. In an initiative highly supported by the VC, the most talented scholars from Grades 7 to 12 are invited to this event to be challenged and entertained in a competition designed to: (i) stimulate interest in mathematics, (ii) encourage learner participation in problem-solving activities, and (iii) assist schools in identifying hidden talent. The open invitation means that the focus is not just on Grahamstown central, but the broader community as well.
The programme included the all-important Olympiad and a special presentation by guest speaker Ms Tal Moore – a Sharp Calculator support specialist from Seartec. Recognition was given to the top achievers in each grade from all participating schools.
In the run-up to the big event teachers were encouraged to select four of their learners from each grade (20 learners per high school and four per primary school). Thereafter orientation sessions were held on 5th and 12th February – at the RU Education Department's New Lecture Theatre – with special provisions being made for integration, familiarity and practice for first time entrants.
On the actual day all the learners came ready to represent their schools. They were challenged but conquered with ease. With some of their teachers (and a few parents) also in attendance, the one hour Olympiad went absolutely smoothly.
Twenty of the participants shone brightest, with winners from eleven of the competing schools: St. Andrew's, Diocesan School for Girls, Kingswood, Victoria Girls High, Graeme College, Mary Waters, Nombulelo Secondary, Nathaniel Nyaluza, Kuyasa Combined School, Nompucuko Secondary and Ntsika Secondary.
From the 20 top achievers the three participants and lucky trio that receive full bursaries to study at Rhodes University are:
In first place - Nicholas Kroon of St. Andrew's College
Tied second place - Jarah Fluxman of Graeme College, and
- Nick Murray of St. Andrew's College
As enjoyable and enriching as the maths experience was for all participants and the top performers especially, the road does not end there. They will be encouraged to attend weekly problem-solving sessions throughout the year. This will help develop their mathematical abilities even further; it will also help prepare them for the South African Mathematics Olympiad (SAMO) and other exciting events in the future.
Xoliswa Mbelani of Khutliso Daniels High School and Chumisa Nguza of Mary Waters in Grahamstown both agree that mathematics needs to remain a high priority for the government, the Department of Education and all other major players. "You can use maths everywhere in your life," says Mbelani, "it is important for logical thinking." While she acknowledges that there is a need for more skills, teachers and resources – specifically in the township schools – she also notes that initiatives like this maths experience go a long way in providing something which is crucial for learners and their education opportunities: experience, exposure and much-needed motivation. For young learners hoping to use their education to map out successful futures for themselves, this becomes a valuable stepping stone.
Yankwa Sylvain, a teacher at Kuyasa in Port Alfred, also applauded the contribution such events make towards improving school curricula. It is great to see more accessibility for public schools.
A very well done to all participants, winners and the organisers.
Picture: (From left to right)
Front row: Emma Koch (VG), Vuyolwethu Zamani (Mary Waters), Siyabonga Frans (Nathaniel Nyaluza), Alexander Pezarro (St. Andrew's College), Khaya Sabani (Nombulelo Secondary), Sandile Cengani (Nompucuko Secondary), Brandon Gardner ( Graeme College)
Back row: Siphelele Futhuse (Kuyasa), John Haydn (St. Andrew's College), Ben Kroon (St. Andrew's), Nicholas Kroon (St. Andrew's), Nick Murray (St. Andrew's), Kieran Baart (St. Andrew's), Jarah Fluxman (Graeme), Gemma Lankester (Kingswood Junior)
Source: Communications and Marketing
Please help us to raise funds so that we can give all our students a chance to access online teaching and learning. Covid-19 has disrupted our students' education. Don't let the digital divide put their future at risk. Visit www.ru.ac.za/rucoronavirusgateway to donate