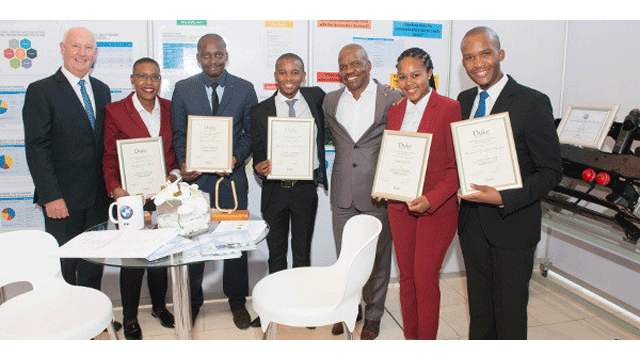 By Thabo Mphahlele
In a country rated by the International Labour Organisation as the sixth highest in terms of youth unemployment in 2015, it is rare to find a company that actively prioritises the placement of its graduate trainees as employees.
BMW Group South Africa (BMW SA) Managing Director, Tim Abbott, announced an absorption rate of above 80 percent during the recent qualification ceremony of its 2015 intake of graduates.
The South African Graduate Employers Association (SAGEA) also praised BMW SA as the top graduate programme in South Africa's automotive industry for the third year in a row in 2015, based on a survey of successful job hunters.
This was followed in 2016 with first place in the Universum "Most Attractive Employer" awards in the category Engineering/Technology in the Automobile and Parts sector. These results are compiled from a survey of students pursuing degree studies to identify their ideal employer. 46 709 students from 25 universities and 13 510 working professionals were interviewed, giving BMW Group South Africa its third consecutive win in this category.
A pipeline approach yields benefits for graduate and employer
"Our brands are world famous for exceptional aesthetics and technology. Yet, at the very heart of a century of success lies only one element – our human capital," says Abbott.
"Employee engagement and advancement forms the backbone of our sustainability strategy."
The BMW Group South Africa Graduate Development Programme, which has been around since 2000, fits into this model and has successfully created a pipeline of potential employees for the business over the years.
To further enhance this, and to support the transition of graduates from the world of academics into the fast-paced world of work, the BMW Graduate Development Programme was restructured in 2013.
This restructuring coincides with the positive reviews that the company has started to receive in graduate employment surveys such as SAGEA and Universum, flagging it as a leading graduate development programme in the automotive industry. BMW Group South Africa partners with Rhodes University, Deloitte Consulting and Duke Corporate Education on the programme.
The successful training model revolves around a 24 month structure, underpinned by four pillars that straddle theoretical and practical elements. Graduates receive an NQF Level 6 Work Readiness qualification, and are immersed into the business value chain through a personal development plan that guides their rotation through the programme.
Over and above a workplace integration component, the theoretical module provides an intensive experiential learning approach to workplace readiness. This includes personal and group assignments that unleash the creativity of the graduates, culminating in the development of a business case study. BMW Graduates also have an opportunity to interact with senior management and leaders in the industry through dialogue sessions.
The minimum requirement for entry into the BMW Graduate Development Programme is a relevant degree or equivalent, with a 70% academic average. Post graduate qualification is an advantage.
"Each graduate is selected with the end goal in mind and for us that is to ensure that potential future vacancies can be filled with competent individuals who ascribe to the BMW mindset of quality, efficiency and innovation," says Abbott.
This approach benefits the business in terms of human resource continuity, but is also a contribution to building a future generation of economically active South African citizens

Source: http://www.biznisafrica.co.za/millennials-join-bmw-graduate-development-programme/
Source: Biznis Africa
Please help us to raise funds so that we can give all our students a chance to access online teaching and learning. Covid-19 has disrupted our students' education. Don't let the digital divide put their future at risk. Visit www.ru.ac.za/rucoronavirusgateway to donate