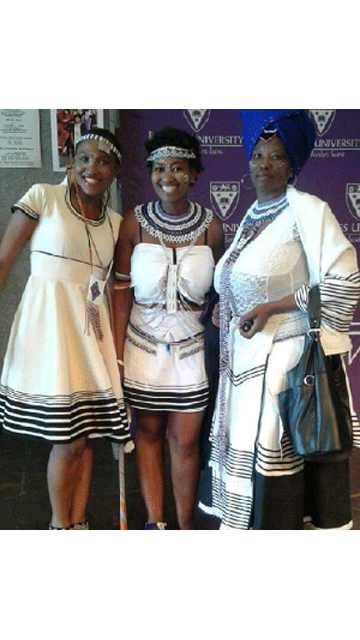 Mpho Raborife
Grahamstown – A Rhodes University graduate broke the norm at her graduation ceremony in Grahamstown this month when she performed a traditional dance before receiving her degree.
When Tolakele Silo's name was called at the 1820 Settlers National Monument on Saturday, her family ululated and called out the family's clan names as she danced on the stage, whip in hand, to the surprise of hundreds in the hall who cheered and applauded her.
"I danced because I was owning the moment, because I wanted them to feel that this was my moment and I worked so hard realising that," she said.
Silo she wanted to entertain the crowd and bring lightness to the often strict and formal ceremony. She also wanted to use the opportunity to dispel the idea that such ceremonies were Western.
"I wanted to break the norm of many people thinking that for one to be formal, they have to go Western. You can be formal in your own culture.
"When we wear our traditional things we don't just wear them, we wear them to things like weddings, of which in the African context, weddings are a formal thing."
Celebratory and entertaining
Silo wanted graduation ceremonies to take on a more celebratory and entertaining tone.
"It should be entertaining to both you and the people who will be clapping for you at the end, so we should change that not-so free environment to a free environment, that should make you appreciate your hard work."
When her family first heard about her idea, they tried to discourage her, with fears that she may be barred from graduating because she would not be following the rules.
Her mother was especially worried about the fact that her daughter would not be allowed to walk to the stage with no shoes on.
"At first my mom kept discouraging me a bit, but she was for it at the end. My sister who was laughing at this idea, also dressed up and besides dressing up, came barefooted which was very surprising," Silo said with a slight laugh.
Positive reaction
Her family had arrived in their own traditional clothes in support of Silo, who graduated with a Bachelor of Arts degree in Journalism and Media Studies and isiXhosa.
She said she had received positive reactions from friends, classmates, to strangers on social media who have come across pictures and videos of her graduation ceremony.
"I have been getting a lot of Facebook messages with people praising me for what I did and I've been getting a lot of people... congratulating me, mostly happy about me breaking the norms and mostly inspired about me inspiring them to inspire other people as well.
"The love is so overwhelming," she said.
The 22-year-old is currently studying a postgraduate diploma in enterprise management. She plans on doing her MBA next year or pursuing a Masters degree in African languages, if she can secure the funding, she said.

Tolakele Silo with her mother Penina and sister Nathina after being conferred a Bachelor of Arts degree at Rhodes University in Grahamstown, Eastern Cape at the weekend. (Photos supplied)
Source:http://www.news24.com/SouthAfrica/News/rhodes-graduate-performs-xhosa-dance-during-ceremony-20160408
Source: News24
Please help us to raise funds so that we can give all our students a chance to access online teaching and learning. Covid-19 has disrupted our students' education. Don't let the digital divide put their future at risk. Visit www.ru.ac.za/rucoronavirusgateway to donate