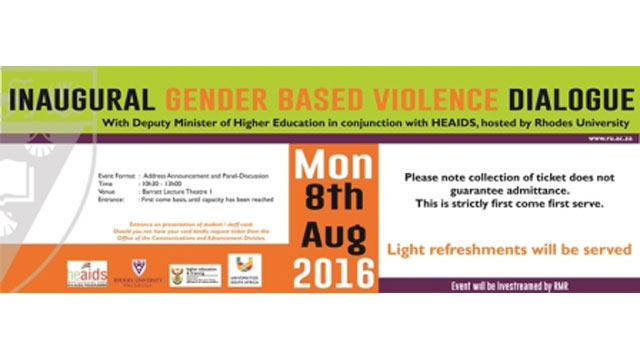 Following the recent events and awareness-raising campaigns that have taken place in universities across the country in relation to gender- based violence, Rhodes University together with the Department of Higher Education and Training HIV/AIDS programme (HEAIDS) and the Department of Education and Training (DHET) will be hosting the Inaugural National Dialogue on Gender Based Violence for the post school sector. Taking place on Monday, 08 August 2016 at the Barratt Lecture Theatre, the event will be addressed by the Deputy Minister for Higher Education and Training, the Honourable Mduduzi Manana.
The Department of Higher Education and Training has called on HEAIDS, together with the various higher education institutions to develop and implement a comprehensive response to the issue of gender-based violence through inclusive dialogue, with the event taking place at Rhodes University being the first of its kind held at a national level. The event will take the form of a panel discussion which will include, Rhodes University Vice-Chancellor, Dr Sizwe Mabizela together with representatives of the Department of Social Development, the National Prosecuting Authority and students.
"Rhodes welcomes the intervention of the Department of Higher Education as this will not only open conversations on gender based violence on our campuses but will also add onto the various initiatives that higher education institutions have in place to raise awareness around gender based violence and rape. We hope that this dialogue will assist our institutions to continually to re-examine where we might add and or improve our current initiatives, processes and procedures," said Dr Sizwe Mabizela, Vice-Chancellor at Rhodes University.
"There are at least three critical dimensions that need our focused attention and concerted efforts – first, we must raise awareness on issues of gender-based violence and rape; second, we must provide safe, secure, supportive and empathetic support for our staff and students who may fall victim to gender based violence and rape. Lastly, we must ensure that the perpetrators of such violence are prosecuted to the full extent of the law and removed from our society for a long time. We should never rest until gender based violence and rape have been eradicated from our society, in general and from our campuses in particular," Mabizela concluded.
Source: Communications and Advancement
Please help us to raise funds so that we can give all our students a chance to access online teaching and learning. Covid-19 has disrupted our students' education. Don't let the digital divide put their future at risk. Visit www.ru.ac.za/rucoronavirusgateway to donate