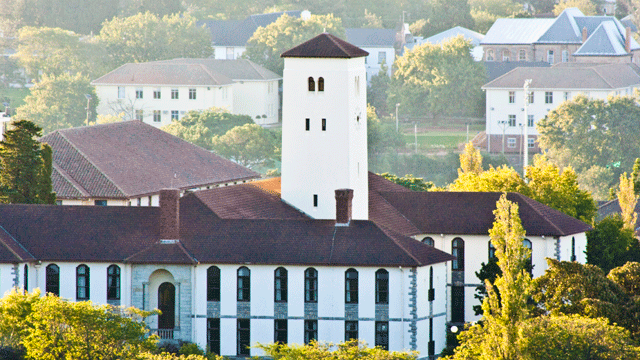 The scheduled dialogue to engage students and partners to initiate solutions to address Sexual Gender Based Violence in Institutions of Higher Education at Rhodes University was adjourned due to some student's demands and protest.
Deputy Minister Mduduzi Manana highlighted that perhaps this is a serious blemish that has always been there, but had been turning a blind eye to. Either way, we should be grateful that these heinous acts are made to surface so that we can find ways to deal decisively with them".
"As the university, we will continue working with the Department of Higher Education and Training and other post school institutions to ensure the realisation of the project. Internally, it is also important for us to create spaces for meaningful engagement so that we may eradicate the scourge of sexual and gender based violence," said Dr Sizwe Mabizela, Vice Chancellor of Rhodes University
The dialogue was initiated by HEAIDS to address concerns raised by students across all Technical, and Vocational Education and Training (TVET) Colleges and Universities to devise a collective response.
HEAIDS Programme Director, Dr Ramneek Ahluwalia is calling on students to make submissions on issues of Sexual Gender Based Violence to ensure that we reach a collective and inclusive approach that will ensure and build a strong and sustainable response.
Initiated by the Higher Education & Training HIV/AIDS Programme (HEAIDS) and Deputy Minister of Higher Education and Training (DHET) Mduduzi Manana, the dialogue was attended by the National Prosecuting Authority, Department of Social Development, representatives from SAPS, researchers, and students from institutions in the province and advocates working in the fields of social development, justice, health and safety.
Deputy Minister Mduduzi Manana reiterates the importance of a unified a response in addressing these acts of violence: "It is important to work together to rid our institutions and communities this rape culture. We must strengthen campus security measures, bolster efforts to care and support survivors, encourage the immediate reporting of rape and assault incidents and act decisively where such cases are reported."
In the coming months, HEAIDS and DHET will expand the dialogue into many more universities and colleges to ensure that SGBV is top of post school institutions' agenda into next year to include issues of:
Uniform policy development and implementation across all institutions within the sector.
Inclusive social and behaviour change communication and education.
Peer education and capacity development.
Ongoing dialogues at campuses.
Service provision including counselling, treatment and referrals to other services as needed.
Source: Communication and Advancement
Please help us to raise funds so that we can give all our students a chance to access online teaching and learning. Covid-19 has disrupted our students' education. Don't let the digital divide put their future at risk. Visit www.ru.ac.za/rucoronavirusgateway to donate