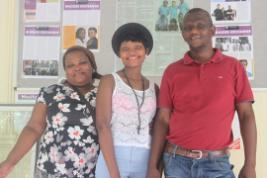 By Thandi Bombi
"It's like I am walking in Heaven's streets," said proud father, Mr Mzukisi Madakana after taking his daughter Sinazo Madakana on tour of the Rhodes University campus. As a staff member of the Campus Protection Unit, Mr Madakana knows all the ins and outs of campus. "I am bringing my daughter to an institution of higher education and all I feel is joy because she will be the first person in our family to get a degree," he shared.
Eighteen-year-old Sinazo, will study at Rhodes University after receiving recognition as the top achiever of Ntsika High School. "I am so happy to be receiving this opportunity," said Sinazo quietly, who will be living in residence this year. "I am also very nervous at the same time because they say that there is a lot of work and the lifestyle is different from what I am used to."
Sinazo, has had a busy registration weekend, having to rush back to Rhodes from Port Elizabeth where she had just received a cheque of R5000 from the Sarah Baartman Municipality for being the top student at Ntsika High School. Although some might complain about such a heavy schedule, Sinazo says her matric year prepared her for this.
"Matric was hard because it was a lot of work but that is where I learnt about effective time management," she says. "It also helped that I was a member of the Ikamva Youth Programme, where we had tutors from Rhodes University helping us with homework and assignments and we also had mentors guiding us through the pressures of matric."
Her outstanding final results are proof that such programmes have a positive effect on the learners involved. "Last year I was having a lot of difficulty with Maths Literacy because there was no teacher for it at Ntsika," explains Sinazo, "Fortunately, through the programme I was able to attend Maths Literacy classes during the weekends." Sinazo passed the subject despite the hardships she faced during the year.
Sinazo got involved with Ikamva Youth Programme after her father, who has been working as a security guard at Rhodes University for over 10 years, heard about the programme and went to the Community Engagement Office to find out how his children could get involved. Ikamva Youth is a Non-governmental Organisation that specialises in giving academic support to pupils who attend under-resourced schools. The pupils registered with Ikamva meet with tutors and mentors from Rhodes University two afternoons per week and on Saturday mornings to receive academic support in various areas.
Mr Madakana feels very strongly about supporting his children's academic careers and going above and beyond to make sure they succeed. "Parents mustn't give up, they must try to give their children education because the only weapon that we can use to be successful is education," he says passionately. "If you don't support your children with their education or if he or she loses that opportunity because the parents did not try it means you have killed that child."
Sinazo's mother Lindiwe Madakana who describes her daughter as a shy non-talkative girl says that she does not fear that her daughter will get caught up in the university lifestyle. "We are not scared," she said, "We just pray that God guides her through her academics as well as her social life."
Mrs Madakana went on to explain that prayer was the most important part of Sinazo's success. "We must never forget to give praise to our Heavenly Father," she says, "Even those who for whatever reason could not get into University should keep praying and never give up because everyone deserves an opportunity to be educated."
Caption: Sinazo Madakana with her proud parents.
Source: Communications and Marketing
Please help us to raise funds so that we can give all our students a chance to access online teaching and learning. Covid-19 has disrupted our students' education. Don't let the digital divide put their future at risk. Visit www.ru.ac.za/rucoronavirusgateway to donate