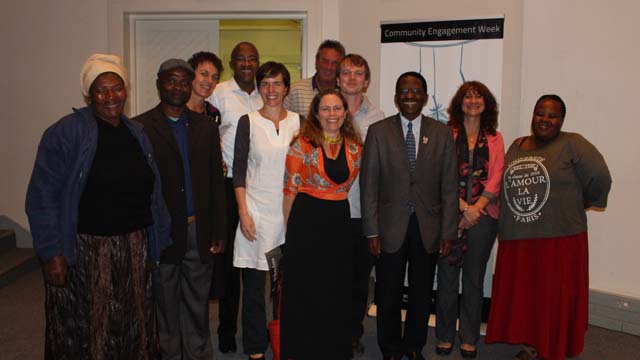 In the wake of Community Engagement week, the Jonga Pambili Sinethemba Project group, the recipients of the Vice-Chancellor's Community Engagement Award gave a public lecture at Eden Grove Blue Lecture Theatre on 4 May 2015.
The Vice-Chancellor's Community Engagement Award is awarded annually to a Rhodes University group or staff member who has dedicated time and knowledge to forge socially significant initiatives and partnerships in the local community.
In attendance at the lecture were Rhodes University Vice-Chancellor, Dr Sizwe Mabizela, Deputy Vice-Chancellor of Academic and Student Affairs, Professor Chrissie Boughey, Deputy Vice-Chancellor of Research and Development Dr Peter Clayton as well as various other members of the Rhodes University academic staff, student body and community members that had formed part of the research that the Jonga Pambili Sinethemba team had worked with.
The team, Professor Sheona Shackleton, Dr Georgina Cundill, Professor Heila Lotz-Sisitka, Mr Monde Nstudu, Mr Lawrence Sisitka and Mr Nick Hamer, was introduced by Professor Boughey who then gave a detailed explanation about the achievements of the Jonga Pambili Sinethemba project group.
"During their research into various aspects of food security, health, vulnerability and adaptations to climate change under multiple stressors, the group facilitated a ground-breaking social learning process in both communities that highlight the best practice model for engaged research," said Boughey, "the model has attracted national and international attention and recognition."
In her final remarks, Boughey explained how the research done by the team benefitted the community as well as the university, "This research project has improved our academic understanding of climate change and adaptation in rural contexts and produced a number of tangible academic outputs," she said, "included in these are nine doctorates and masters degrees, nine journal articles and book chapters and 53 conference presentations."
As the lecture got underway Professor Shackleton outlined the lecture that was to follow and spoke about the name, "Jonga Pambili Sinethemba translates to moving forward with hope, and this project was named by the communities involved," she said.
The lecture was then divided into four sections, Theoretical framing, what was actually done, exchanging knowledge and key lessons for undertaking community engagement research then various members of the team came up and presented these sections.
In a section titled Thinking about participatory approaches, Mr Lawrence Sisitka spoke about how the team could avoid new tyranny through the type of engagement with the community, "In these situations researchers are to act like catalysts and remain unchanged through the process," he said, "it is without a doubt that none of us remain unchanged."
Sisitka went on to add that it took courage to do things differently and that they experienced many different types of courage, "I salute our community members for the courage they have brought into making everything possible for themselves as well as our team."
The evening served as a platform for this team to engage with the university on the successes they had experienced through engaging with the community.
"We feel very honoured that our work was recognised," said Shackelton, "more importantly it is great that we have been given a platform and opportunity to share with the university what we have achieved in our community."
The evening ended as warmly as it had begun with finger snacks, drinks and a marimba band to fill in the quiet between the cheerful murmurs of those who had attended the event.
Article by: Thandi Bombi
Source: Communications and Marketing
Please help us to raise funds so that we can give all our students a chance to access online teaching and learning. Covid-19 has disrupted our students' education. Don't let the digital divide put their future at risk. Visit www.ru.ac.za/rucoronavirusgateway to donate