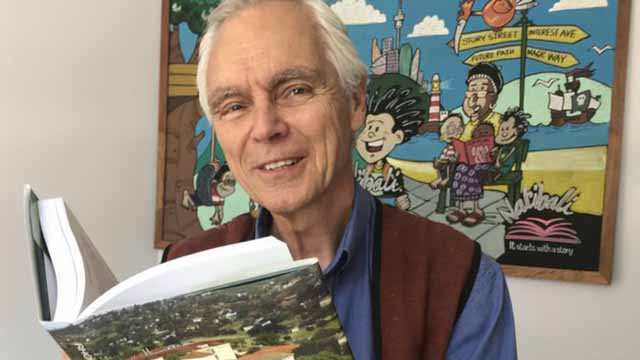 Rhodes University history professor Paul Maylam has written a fascinating book on the history of this iconic Eastern Cape educational institution.
Rhodes University, 1904-2016: An Intellectual, Political and Cultural History, published by the Grahamstown, Institute of Social and Economic Research, covers a sweeping period of time for the Eastern Cape province.
The product of more than four years of research and writing, it gives a critical account of the 113-year history of Rhodes.
Among the themes Maylam covers are its founding as an imperial university; academic life in the early years; its politics;the roles played by student activists and anti-apartheid staff; as well as sporting achievements.
Despite Maylam's scholarly bent, he gives a good airing to the "culture of frivolity and rowdiness that had long been a feature of student life" and this makes it far more than a dry official tome.
In fact, if you have studied or worked at Rhodes, or lived in Grahamstown, you probably will find plenty to enjoy in Maylam's book.
As an old Rhodent, I never thought about who its 54 residences were named after, for example, and why. I never knew Lillian Britten, for example, was a suffragette and the first woman to take up an academic post at Rhodes.
I also never knew that JLB Smith – whom many only know for his role in discovering the coelacanth – also was a chemistry lecturer and gifted linguist. On a visit to Mozambique, Smith learnt Portuguese so well in less than four weeks that he soon was delivering a lecture in that language – without notes!
Then there are the famous alumni, like politicians Rob Davies and Mcebisi Jonas, and current academic stars like Professor Tebello Nyokong who has brought glory and awards to the chemistry department.
Maylam also brings current events into focus, placing the #FeesMustFall movement in context. As he himself writes, it would be stating the obvious to say Rhodes is now a very different place to what it was in 1904, but it is useful to have Maylam as a guide to "identify some key turning points and watersheds".
Rhodes University, 1904-2016 retails at R220 (paperback) and R295 (hardcover) , and is on sale at Fogarty's in Port Elizabeth and Van Schaik bookstore.
More information from Bulelani Mthlabana at b.mohlabane@ru.ac.za.
Source: http://www.heraldlive.co.za/my-heraldlive/2017/11/06/rhodes-university-book/
Source: Herald Live
Please help us to raise funds so that we can give all our students a chance to access online teaching and learning. Covid-19 has disrupted our students' education. Don't let the digital divide put their future at risk. Visit www.ru.ac.za/rucoronavirusgateway to donate