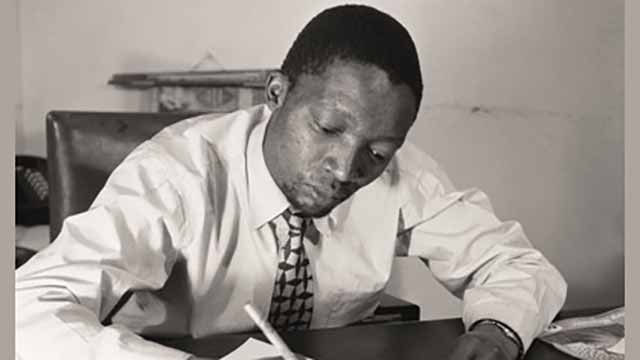 Teacher, activist and writer Can Themba is one of the first black students to be admitted at Rhodes University in the late 1940s. He went on to complete a teacher's diploma in standard time.
Themba, a member of the elite Drum Writers club, attended Rhodes University College in his mid-20s, during a time when Rhodes was still a college transitioning to becoming an independent university.
He was admitted shortly after 1947, where the issue of racial inclusivity made its "official debut" at Rhodes. The college senate agreed to accept the eligibility of 'non-European' graduates – and so, the long battle for transformation at Rhodes began.
Arguably, one of the most respected African writers and teachers of our time, Themba was a man whose voice was silenced prematurely. 50 years after his death from a heart attack in Swaziland, the Drum writer was recently commemorated with a homecoming unveiling ceremony in Johannesburg.
After his graduation at Rhodes University, he started his teaching career at the Western Native Township High School where some of his pupils included Archbishop Desmond Tutu, Stan Motjuwadi and Drum writer Casey Motsisi.
In Swaziland, he spent most of his days in the library or teaching and is renowned for being a gifted teacher who was extremely logical in his thinking and had a deep love for humankind.
Themba was described as a great literary luminary who challenged the apartheid dogma with the power of the pen. He was a prophetic voice that spoke truth to power.
He became known as a public figure when he joined Drum Magazine in the 1950s, one of the publication's most celebrated era, owing to the brilliance of Themba and associates.
One of Drum's landmark investigative writings from Themba's sharp pen was Brothers in Christ, published in the mid-1950s. The article was a result of the writer visiting a number of white Christian denominations as a worshipper to find out whether black and white South Africans were brothers and sisters in Christ. The adventure proved the opposite, as one church after the other turned him away even violently.
Born in Marabastad location, Pretoria, on June 21, 1924, the second in a family of three. However, he regarded himself as a nativised Sophiatonian and indeed its supreme intellectual luminary. Sophiatown became a great source inspiration for Themba's journalism career.
He later went underground in Swaziland with his family, and continued teaching and writing. Besides his passion for The Bard and Dickens, he was also an avid reader of the Good Book, particularly St Paul's epistles. The letters of St Paul inspired him to pen a play during his stay in Swaziland.
Morongwa, his daughter, remembered her father as a diplomat who played the role of a peacemaker in Swazi politics and a revolutionary who was once fired from his teaching post after he organised a strike for better salaries.
"He was a hopeless romantic who wrote Shakespearian-style love sonnets for his wife," she recalls.
Can Themba's literary legacy lives on as the Market Theatre is currently staging The Suit (1993), a Barney Simon and Mothobi Mutloatse production based on his most famous short story. Earlier this year the theatre staged Siphiwo Mahala's House of Truth (2016), a one-hander inspired by collected works such as The Will to die (1972) and The World of Can Themba (1985).
The latter served as an encouragement for actor Sello Maake Ka Ncube to soldier on at the time when he was disenchanted with the industry and contemplating a career change. "Can Themba's writings gave me a purpose to continue with my theatrical journey," he says. "And for that I'm eternally grateful to him for his literary genius."
Following his death as an exile in Manzini, Swaziland, on September 8, 1967 - the date that is universally observed as International Literacy Day - he was buried at St Joseph's missionary school, Swaziland. His birthday, June 21 is observed as Short Story Day Africa.
The family exhumed the body and he was reburied in the Anglican section of the Westpark Cemetery on 30 September 2017. His wife, Anna Sereto-Themba, who died in 2014, was also buried at Westpark.
The couple has at last found a final resting place among some of the country's eminent citizens - fellow freedom fighters such as Ahmed Kathrada and Alfred Nzo.
Themba was the first recipient of the Mendi Memorial Scholarship in 1947.
Source: Communications
Please help us to raise funds so that we can give all our students a chance to access online teaching and learning. Covid-19 has disrupted our students' education. Don't let the digital divide put their future at risk. Visit www.ru.ac.za/rucoronavirusgateway to donate