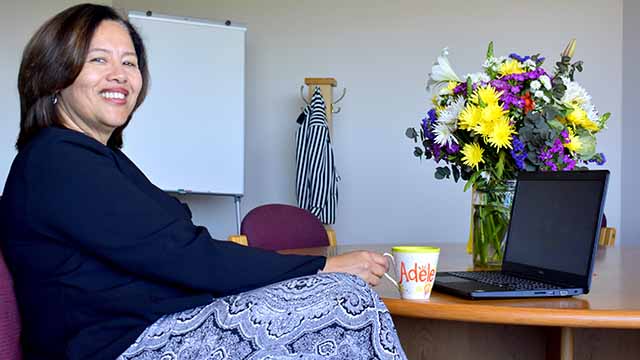 Dr Adele MOODLY, RHODES UNIVERSITY REGISTRAR: The Interview
Dr Adele Moodly is a quintessential, multi-cultural and dynamic woman who exudes an aura of diplomacy paired with a raging passion for the movement of women towards their rightful place in society.
First Black Woman Registrar.
In the context of social change and transformation, I embrace the title of First Black Female Registrar of Rhodes University in over a century, proudly. Women of all races have been marginalised from inception. Black women are particularly excluded from leadership positions in higher education. Being appointed by Rhodes University with its history, is something I celebrate, for myself, for women, and especially for black women.
What does Gender Equity mean to you?
Only the passion that has become part of my work and my personal mission to ensure that it happens in our lifetime. South African institutions, particularly higher education, need to recognise and affirm all women, especially black women who are competent, qualified, experienced and offer a different style of leadership to the predominantly masculine character/forms of leadership we find in the gendered cultures of our Institutions.
I have lived through extremes of women marginilisation in Saudi Arabia under a very strict and conservative Islamic culture. Women were only recently allowed to drive. I had to adhere to rules of being driven, and ensuring that I sit in the back seat of cars because I am not married to the driver.
As an advocate of a democratic space for all to thrive, I took up this position as a Registrar as a move towards practicing what I have been preaching. I am comfortable in myself, and I am confident that people will get to know me and understand who I am as a South African. There is pressure to perform when you are a first; you have to set the tone for other women, to keep the momentum going. Great, let us get on with the business of governance. I cannot offer perfection, but only competence and leadership.
Second time at Rhodes University
I spent my first four years away from home, in 1985, walking up and down what used to be the Eden Grove pathway. Thirty-two years later, I am occupying an office as the Registrar on the same grounds.
Back then, Rhodes was one of the few white institutions that accepted black students, it was seen to be a liberal university. This campus grew me out of the sheltered childhood I had in Port Elizabeth.
It was during the height of political turmoil, student activism, and national boycotts. The Rhodes black student movement and the white student movements led by the likes of Ray Hartle, Sim Tshabalala and Ashwin DeSai among others had constant run-ins at these Drodsty Lawns with the police and special forces.
Students were grabbed and detained for long periods, and those of us that were somewhat in the middle, had to assist when leaders went underground or were arrested. Student politics were part of the national agenda, the outrage against the continued oppression of black people by the apartheid government. The national agenda of a free society.
Outside these movements, we felt safe in this small campus and town. I am very saddened by the harsh reality faced by women in campuses nowadays.
What does a Registrar do?
I get asked that a lot. It is a pivotal and critical part of governance of a university system. My job is to ensure that the governing systems, statutory bodies and policies are in alignment with the Higher Education Act. The Registrar's division is the custodian of policy development and makes the critical decisions pertaining to the governance of the University.
You need to have a have clear understanding of the academic agenda and procedures in order to marry that with good and democratic policies. It is about ensuring that the administration of the institution is smooth, transparent and serves everybody in the university community. It is a big responsibility; there is no room for uncertainty.
What makes you better placed?
I can straddle academia and administration comfortably because I come from over two decades of being an astute academic, being part of academic management and administration. A thorough understanding of the academic arena is an advantage because policies created must complement the academic agenda. I have worked closely with the Registrar's divisions at the University of Fort Hare and Walter Sisulu University as a Deputy Dean and Director of School, as well as member of Council at WSU.
I still do supervision, I am co-authoring a book, and I am still doing research in my passion, Women in Leadership positions in Higher Education.
Women in leadership, where are we in higher education?
Stuck in middle management. This is owing to various social factors perpetuated by the patriarchal culture of society. We as women sometimes also subscribe to that because some women are comfortable being in the middle in the lifecycle continuum; many of us being mothers and wives with an expected role to play.
There are those challenging the status quo, at home and in the work environment. Women are still in the minority because society is not yet confident to trust us to be Vice Chancellor or part of executive management.
It becomes a big responsibility for the few that get through the system to prove that we can also claim this space and teach our children that leadership is not the responsibility of men alone.
Once we are in, it is important that we bring in our style and special brand of leadership. We bring in a more caring and personal approach to the delivery of services, we lead with our team and are less authoritarian. Do not get me wrong, middle management is a start but we have to go beyond service-orientated positions and into frontline leadership.
For me it is not just a numbers game, but also the need for leadership to be placed in the hands of those with the competency to lead.
You have been in office for a week, what would you change so far?
The curtains in my office, they are very dark. I told Dr Steve Fourie that I am getting rid of them and he said, "well, they are not mine, I found them here". (She chuckles).
The week has been busy, I have learnt a lot and still have a lot more to learn. I generally had to hit the ground running to get to know the lay of the land, observe, review, and ask a lot of whys and how.
My priority is to learn how to work with people.
I have been part of big campuses; suddenly finding myself travelling to work in under five minutes has been bliss. WSU is spread over a 3 000km radius, and UFH campuses cover over 150km, which meant I practically lived all over the Eastern Cape.
The greenery of the mini-forestry character juxtaposed with century old architecture, I had almost forgotten these majestic views of campus and Grahamstown. The blend of nature is a refreshing way to start my day.
This gem of a campus is intimate, accessible, and central. The cherry on top has been the amazing view I have from my office of the Grahamstown city centre and Joza Township, it is breathtaking.
SIDEBAR
QUALIFICATIONS
Bachelor of Arts degree (English and Psychology) – Rhodes University (1989)
Higher Diploma in Education - Rhodes University (1989)
Bachelor of Education - Unisa (1994)
Master of Education - UNISA (1997)
Doctor of Education – UNISA (2001)
Master of Business Administration - Netherlands Business School (2005)
HOMETOWN

Port Elizabeth
SCHOOLS
Frank Joubert Primary
Bethelsdorp High
LANGUAGES
English, Afrikaans, conversational Xhosa, German and Arabic
FAMILY
A supportive husband and an extremely loving son in his mid-20s, three fantastic siblings and my wonderful parents.
RHODES RESIDENCES

Cantebury, Atherstone, Truro House, and Oppies J
Source: Communications
Please help us to raise funds so that we can give all our students a chance to access online teaching and learning. Covid-19 has disrupted our students' education. Don't let the digital divide put their future at risk. Visit www.ru.ac.za/rucoronavirusgateway to donate