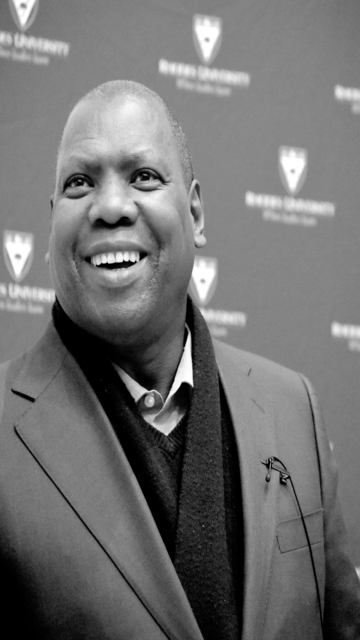 Former Premier of KwaZulu-Natal, Dr Zweli Mkhize and Treasurer of the African National Congress (ANC), urged institutions of higher education to produce citizens that consider their education as an investment in society during a public Lecture on Citizenship and our Country yesterday at Rhodes University.
The lecture was attended by members of the Grahamstown community including the Mayor for Makana Municipality, Ms Nomhle Gaga, Rhodes Vice-Chancellor Dr Sizwe Mabizela and Director for Community Engagement at Rhodes, Ms Di Hornby.
Dr Mkhize is the founder of Ikusasa LeAfrika Foundation (ILAF) a community-based organisation that aims to advance the social and economic development of marginalised communities. He believes that universities in South Africa are disconnected from the social concerns of local communities.
Recent student-led movements have called for the decolonisation of South African higher education institutions, the democratisation of the knowledge production process, as well as a level of social responsiveness within the sector.
"Education is the most potent weapon by which we can transform society, creating the South Africa of our dreams. Young people will always look at the world around us and wonder why it should be like this; that is a tool to ensure that our country continues to improve," said Dr Mkhize.
He reminded the young people present of his and his contemporaries' long journey filled with dreams for the next generation. "We have always wished for a better life for our children. We need an emergence of a compassionate and caring society for our children. They have an opportunity to be taught and for this knowledge and skills to be harvested by society in the true spirit of Ubuntu," he pleaded.
Dr Mkhize's Foundation, ILAF, is based on the same principles of contributing to the social and economic development of marginalised communities. It seeks to build communities that are self-sustaining without undue reliance on government.
"Our young people are groaning, moaning, and yearning for a new life," he said
Rhodes University Vice-Chancellor, Dr Sizwe Mabizela shared the same sentiments as he mapped out Rhodes University's current work and partnerships with the community of Grahamstown, especially the work done by the Community Engagement division.
"The survival and growth of Rhodes University are inter-linked with the development of the entire Grahamstown community. We are lucky enough to have a student body that has embraced the opportunity to learn and share knowledge with the vast community of Grahamstown. We aim to intensify this relationship and maximise the tangible results," said Dr Mabizela.
Dr Mkhize graduated with a medical degree from the University of Natal, served as the Commissioner of Health as well as Finance and Economic Development MEC in Kwa-Zulu Natal. He currently serves as the Treasurer General of the African National Congress (ANC). While working as a public official, Dr Mkhize has remained a community-oriented person with active projects that are making a fundamental difference in communities in Kwa-Zulu Natal.
Source: Communications
Please help us to raise funds so that we can give all our students a chance to access online teaching and learning. Covid-19 has disrupted our students' education. Don't let the digital divide put their future at risk. Visit www.ru.ac.za/rucoronavirusgateway to donate