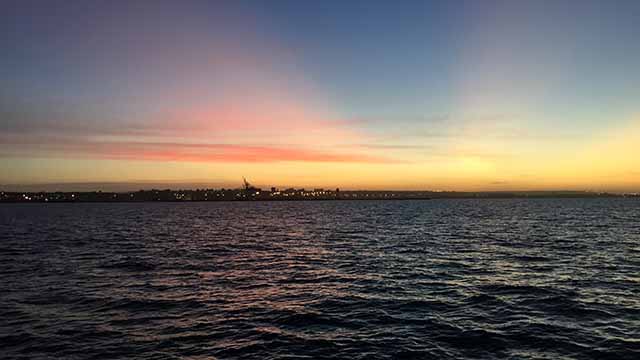 Eastern Cape, South Africa – Seventeen scientists from across the Eastern Cape have launched a collaborative, two-year project to develop a marine spatial plan for Algoa Bay that harnesses the collective expertise of researchers in the natural sciences, humanities and law. The project marks the first step in developing a local marine spatial plan for South Africa.
Led by principal investigator Prof Rosemary Dorrington from Rhodes University (RU) and co-investigator Prof Amanda Lombard from Nelson Mandela University (NMU), the team includes 15 other lead researchers from institutions in the Eastern Cape including the University of Fort Hare, the South African Institute for Aquatic Biodiversity (SAIAB) and the South African Environmental Observation Network (SAEON, in addition to RU and NMU). More than fifty additional scientists will contribute to the project. Both Dorrington and Lombard are SARChI Professors (SARChI, the South African Research Chairs Initiative, is a joint programme of the National Research Foundation and the Department of Science and Technology to promote excellence in research and innovation).
The Algoa Bay project is funded through the NRF's Communities of Practice program, which promotes strategic research partnerships to conduct research that solves societal challenges and influences policy.
The project aligns with the objectives of South Africa's National Development Plan. More than 40% of South Africans live near a coastline and the country has more ocean territory than it has land. In 2014, government launched "Operation Phakisa" to unlock the economic potential of the oceans by developing the 'Blue Economy'. One of the three pillars of this endeavour is marine spatial planning.
Prof Lombard, SARChI Professor of Marine Spatial Planning at NMU, explains, "Marine spatial planning is about using marine resources sustainably. We bring together all the data and everyone with an interest in the oceans—government, fisheries, shipping, energy, tourism, conservation and recreation—to make coordinated, evidence-based decisions about how to use resources and manage our oceans. The goal is to optimise economic opportunities without compromising the environment."
The marine spatial plan for Algoa Bay will provide a case study on fulfilling the requirements of the new Marine Spatial Planning Bill, which dictates that four regional area plans will be consolidated into a national plan.
Prof Dorrington, SARChI Professor of Marine Natural Products at RU says, "We're delighted to have earned funding from the NRF for this project, which draws together a multidisciplinary group of researchers. The Eastern Cape is often overlooked as a centre for marine research and development, but we have excellent researchers, including six SARChI professors working in the marine sciences."
Dorrington continues, "We're harnessing our collective expertise on a project of critical national importance that will attract scientists and entrepreneurs to the Eastern Cape and develop economic potential to benefit everyone. We've brought together experts in law and ocean governance, molecular biology, ecology, marine biology, geography, geology, oceanography, conservation, fisheries, sustainable development—no single researcher could tackle this complex challenge alone."
The first two years of the project will focus on collating biological and physical data and creating a conservation plan for the Bay. "We're starting with what we know and what we know is biophysical," says Prof Lombard. Algoa Bay, which is the site of the SAEON Sentinel Site for Long Term Ecological Research, is the best monitored coastal area in Africa and in the entire Southern Hemisphere and the fauna and flora of the system have been well studied."
"In the next phase of the project, we'll focus on people," says Prof Lombard. "We'll gather all the stakeholders to map everyone's needs and goals, from whale watchers to fishers to the Port Authority." The next step is a legislative and governance framework, followed by combining everything into a draft regional marine spatial plan for Algoa Bay.
Prof Dorrington says, "We've reached out to colleagues in the Department of Environmental Affairs to offer our Algoa Bay project, the first of its kind, as a learning experience for scaling up the marine spatial planning process to the entire country."
Algoa Bay contains ports, estuaries, islands, rocky reefs, dunes and Blue Flag beaches. It is a hotspot for biodiversity including charismatic whales, endangered African penguins, fish, an extraordinary diversity of invertebrates, seaweeds and corals, all of which are important to the functioning and health of the ecosystem. Coastal communities and industries, such as those of the Nelson Mandela Bay Metropolitan Municipality, depend on these resources.
Source: Communications
Please help us to raise funds so that we can give all our students a chance to access online teaching and learning. Covid-19 has disrupted our students' education. Don't let the digital divide put their future at risk. Visit www.ru.ac.za/rucoronavirusgateway to donate