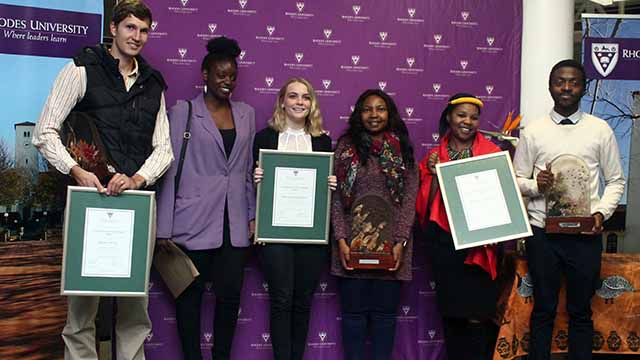 By Lelo Macheke
This year's Environmental Awards honoured scholars working in the line of water conservation, an especially socially relevant area, with Grahamstown currently experiencing a water crisis, as well as the greater South Africa.
The guest speaker for the awards, Dr Nelson Odume is the Director of the Unilever Centre for Environmental Water Quality and a senior researcher within the Institute for Water Research at Rhodes University.
Odume delved straight into the pressing ecological disasters that can be avoided through strict conservation. He believes that, South Africans are privileged to have the type of ecology we have, and that, it should not take a natural disaster to show people how urgent environmental conservation is.
"We ought to change our culture and interaction with nature, if not establish a new one altogether," he advised, "this is ecological solidarity and the secret is to centre our lives as human beings around nature to create harmony."
Dr Odume challenged the audience to be inspired by the example set by the winners of the prizes, citing shifts in behaviour, lifestyle and attitude as fundamental to creating ecological harmony.
The Rhodes University's environmental committee presented three awards within three respective categories.
The Centre for Social Development (CSD) won the environmental award within the Institutional category for their work in early childhood development and recycling initiatives.
The CSD has rolled out a comprehensive program over the years to increase the recycling awareness and education in Grahamstown and beyond. The CSD deals with the assortment of recyclable material from physical wastage, remodelling that material for better usage by young children within the early stages of childhood development.
Amina Cachalia House won the environmental award within the Student Societies/Residence category for the third consecutive year. The House set up an extensive program to deal with the education and conservation of water within and around residences.
Matthew Weaver won the environmental award within the individual category. From his days as an honours student doing Conservation Ecology at the University of Stellenbosch, Weaver has always ensured the prioritisation of water protection and conservation in his personal life and his work.
Weaver is currently working on his PhD thesis on water resource sciences. His research has helped establish the Makana Water Forum.
Deputy Vice-Chancellor, Dr Peter Clayton and current chair of the Environmental Committee, Professor Jo Dames encouraged the audience to make environmental conservation a normal part of their daily living.
Source: Communications
Please help us to raise funds so that we can give all our students a chance to access online teaching and learning. Covid-19 has disrupted our students' education. Don't let the digital divide put their future at risk. Visit www.ru.ac.za/rucoronavirusgateway to donate