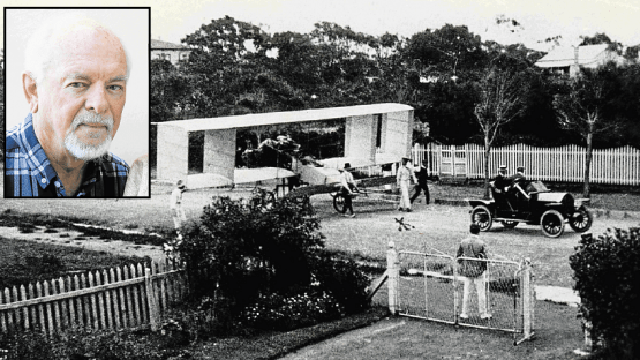 A grouting machine, world-renowned chutney and an enviro-loo are some of the imaginative products invented in the Eastern Cape and which are featured in a new coffee table book called What a Great Idea! by former East Londoner and Rhodes University ichthyology professor Mike Bruton.
Bruton also writes about the in vention of the dolos in East London and South Africa's first powered flight which took place in 1909 at what was once the Nahoon Racecourse and is now the site of Stirling High School.
And, while many are aware that the Kreepy Krawly, Pratley's Putty and CAT scanner were invented in this country, Bruton has also sniffed out scores of less famous South African inventions, like Oil of Olay, Q20 and Policansky fishing reels.
Bruton, who also founded the MTN ScienCentre and was part of the team that launched the Two Oceans Aquarium in Cape Town, wrote the book in his Cape home garden studio.
In 2012, he published 52 articles on South African inventors in a Cape Town newspaper and developed a Great South Africa Inventions exhibition with the support of the Department of Science & Technology which travelled around South Africa and Japan.
One of the most famous inventions to emanate from East London – and South Africa – is the interlocking concrete dolos design which was conceptualised by East London harbour draughtsman Aubrey Kruger in 1956. Although harbour engineer Eric Merrifield spearheaded the project to find a way to protect the harbour wall, it was actually Kruger, who died in the city last year aged 81, who came up with the ingenious design.
The dolos is now used worldwide to dissipate breakwaters.
Another feather in East London's cap was the first powered flight in South Africa which took place on a summer evening in December 1909 at the Nahoon Racecourse, now the site of Stirling High School.
A French mechanic called Albert Kimmerling took off in a biplane and twice flew over the racecourse in a historical event covered by the Daily Dispatch at the time.
Bruton's fascinating book also tells the story of one of South Africa's iconic brands – Mrs Ball's Chutney which was first made by a Mrs Adkins in King William's Town in the 1850s before her daughter Amelia Ball inherited the recipe and produced the chutney in earnest in Fish Hoek, Cape Town.
The famous Ouma Rusks are also the pride of the Eastern Cape since they were first made in Molteno.
Grahamstown-born James Greathead is a forgotten South African inventor hero, writes Bruton. Greathead emigrated to England in 1859 where he invented the Greathead Shield for Underground Tunnelling and the Greathead Grouting machine which were used to build the underground rail system. His statue now stands in London.
Another interesting Eastern Cape snippet is the Enviro-Loo by Grahamstown mayor and dentist Brian la Trobe in 1993.
The waterless loo separates liquids and solids and solid waste is converted into an inoffensive dry material 5% of its original volume. — barbarah@dispatch.co.za
Source: http://www.dispatchlive.co.za/news/2017/12/08/fascinating-book-sa-inventions/
Source: Dispatch Live
Please help us to raise funds so that we can give all our students a chance to access online teaching and learning. Covid-19 has disrupted our students' education. Don't let the digital divide put their future at risk. Visit www.ru.ac.za/rucoronavirusgateway to donate