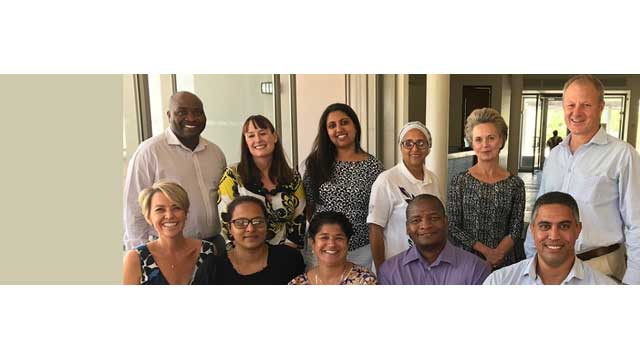 Seeking out proactive collaboration and designing approaches to shared institutional fundraising challenges were some of the issues discussed at the first Higher Education Fundraising Forum held at Stellenbosch University (SU) recently.
Coordinated by SU's Development and Alumni Relations Division, and facilitated by the Resource Alliance, an international NGO working to strengthen the social impact sector, representatives from fundraising offices from the Universities of Cape Town, Western Cape, Free State, KwaZulu-Natal, Rhodes and the Cape Peninsula University of Technology, met with the objective of establishing a national forum. The aim of this forum is to create a community of practice, as well as to develop and support efforts to build advancement operations across institutions.
"Philanthropic giving to Higher Education Institutions is rapidly becoming one of the most important streams of income to ensure the financial sustainability of universities. However, advancement operations and how they are resourced differ from institution to institution, with established universities having stronger advancement structures compared to some of the newer and merged universities," said Vera Adams, Manager: Development Services at SU and one of the organisers of this forum.
"Innovative strategies are required to address the complex challenges facing higher education institutions," she added.
According to Adams, much of capacity building, fundraising approaches and learnings in fundraising processes and systems are learnt from international models with a strong focus on NGO's.
The various institutions present strongly articulated the need to create this national forum, focusing specifically on institutional fundraising within a higher education framework. Key challenges facing all institutions, like bursary support and alumni engagement, were some of the many commonalities identified that could benefit from a collaborative approach.
Adams said the plan is that this forum will be expanded to include national counterparts and create the opportunity to identify potential international funding opportunities that require greater local collaboration.
Photo: From back (left to right) Qondakele Sompondo (RU), Sarah Archer (SU); Cheryl Benadie (SU), Somayah Barnes (UWC), Ingrid Fourie (UWC) Steve Camp (UKZN Foundation). Front (left to right) Sarah Scarth (Resource Alliance), Ronica Ramsout (UFS), Vera Adams (SU), Calvin Maseko (CPUT), Stafford Bomester (UWC).

Source: http://www.sun.ac.za/english/Lists/news/DispForm.aspx?ID=4763

Source: Stellenbosch University
Please help us to raise funds so that we can give all our students a chance to access online teaching and learning. Covid-19 has disrupted our students' education. Don't let the digital divide put their future at risk. Visit www.ru.ac.za/rucoronavirusgateway to donate