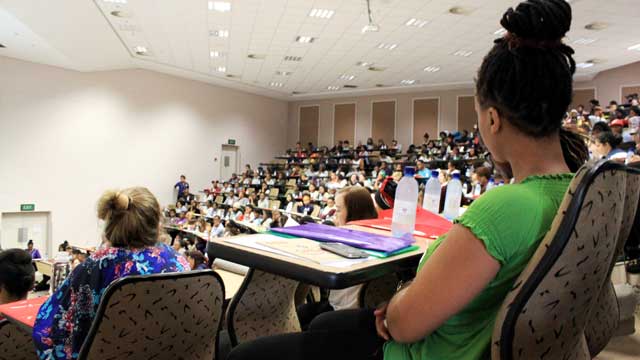 Over 600 Rhodes University students opened the new academic year with an intent to be more than just academic students but to actively engage in the acquisition and dissemination of knowledge to the greater Grahamstown community.
Rhodes University's Community Engagement (RUCE) Directorate planned the full day of training day for student volunteers. The Barratt Lecture Complex was filled to capacity, not just in numbers, but also in enthusiasm and basic understanding of the inter-dependent relationship between a university and its community.
In addition, present at the training were 25 community partners who shared their work in the form of videos, personal stories and exhibitions. The workshop sought to orientate volunteers to the values and principles of community development/engagement and partnerships to ensure that volunteers are able to contribute productively to their placements.
Deputy Vice-Chancellor of Academic & Student Affairs, Dr Chrissie Boughey commended the volunteers, current and new, for their noble actions and highlighted the importance of volunteerism in a town like Grahamstown. "Rhodes is the only research intensive university that is outside the urban area, so our position makes it special among the other research intensive universities on our community engagement efforts," she enthused.
Dr Boughey encouraged volunteers to question the theories taught in university and to incorporate them into their community engagement activities.
Di Hornby, Director of Community Engagements explained how the university has changed its community engagement approach from charitable to an asset-based community engagement. This method enables sustainable development of communities based on their strengths and potential.
"We view student activism as a catalyst for the kind of social change that is congruent with the aims of volunteerism and we hope that the wellspring of activism on campus will lead to a stronger and more successful programme in the coming years at Rhodes," she said.
She added that the approach is to look at what the community has and how Rhodes can help to improve that, so the community is not dependant, it is an inter-dependent relationship.
Additionally, Community Engagement will have its own radio show on RMR every Wednesday from 10am to 11:00am.
Source: Communications
Please help us to raise funds so that we can give all our students a chance to access online teaching and learning. Covid-19 has disrupted our students' education. Don't let the digital divide put their future at risk. Visit www.ru.ac.za/rucoronavirusgateway to donate