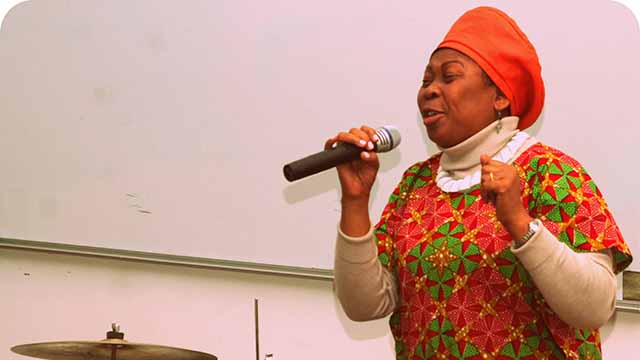 By Lelo Macheke
The Language Committee hosted the sixth Annual Multilingualism Colloquium with internationally acclaimed storyteller, Dr. Gcina Mhlophe, as the guest performer and speaker.
The Multilingualism Colloquium aims to inform, promote and celebrate multilingualism, not only at Rhodes University but nationwide. Language experts, students, and staff are invited and given the space to relay their testimonies on their relationship with culture, language, and identity.
Mhlophe, 59, recited a powerful folktale song on the value of children as the main legacy holders of the world. She inspired the Vice-Chancellor, Dr. Sizwe Mabizela, to get up and dance to her rhythmic delivery.
She has been writing, performing on stage and onscreen for over 20 years. She has written children's books, adult audience poetry, short stories, and plays. She produced and performed on an album for children with Grammy Award winners, Ladysmith Black Mambazo.
In her address, she traced her passion and love for multilingualism and storytelling back to her grandmother, the most powerful storyteller she knows. She was able to speak visuals into the mind of young 'Gcina', thus awakening a love for storytelling in the young girl.
Her analogy identified the different stages of a child growing up using different linguistic systems to phonetically mimic the child's movements. This way of communication not only forms a significant part of storytelling, but it also plays an important role in individual and cultural memory.
"The phrases that were used in raising your grandparents were also used to raise your parents, which were then used to raise you and you will use them to raise your children".
Language is like a second skin, and storytelling is the soul that connects people, even if they may have fundamental identity differences, according to Mhlophe.
Each year the colloquium has a student panel, consisting of students who are interested in multilingualism from across disciplines. This year the student panel comprised of three students, PhD candidates in the School of Languages and Literatures, Nompucuko Zakaza, Joy Joseph and undergraduate student Pamela Eapen.
They shared their experiences on how language has influenced their identities. Their testimonies were powerful and attested to the important role of language and multilingualism in the University.
"From the perspective of being a West African native, being multilingual is more than just a skill, it is a tool for pleasurable survival," said Joseph.
The second group; the staff forum, consisted of Shepi Mati, Brett Malila, Jeannie Mckeown and Nova Plaatjie. They focused on identity, its ambiguous markers and how multilingualism only cements belonging within various pockets of society. Mati brought to life the appreciation of different language dialects as part of the multilingual spectrum by converting a traditional Xhosa folktale and relaying it in Tsotsitaal, thus demonstrating the extensive power of language, interpretation, and context.
Professor Sam Naidu from the Department of Literary Studies in English said Mhlope was an extraordinarily talented and generous speaker who wowed the audience with her energetic and sensitive narrative about language and multilingualism.
"Most importantly, multilingualism was affirmed and celebrated, and the general spirit in the venue attests to the ongoing, collective processes of transformation at this institution. This event is intended to not only celebrate, but also to inform and facilitate critical engagement with the topic of multilingualism in higher education. It would be so great if academics from other faculties other than Humanities could attend in future as there is a lot to be learnt about language," said Naidu.
The incoming chair of the Language Committee, Dr. Jeanne du Toit presented the multilingual prize following short story submissions that display participant's relationship with language. Jasmine Lewis took first prize; Lwando Ntenda came second and the third prize when to Zimkitha Khweza.
Source: Communications
Please help us to raise funds so that we can give all our students a chance to access online teaching and learning. Covid-19 has disrupted our students' education. Don't let the digital divide put their future at risk. Visit www.ru.ac.za/rucoronavirusgateway to donate