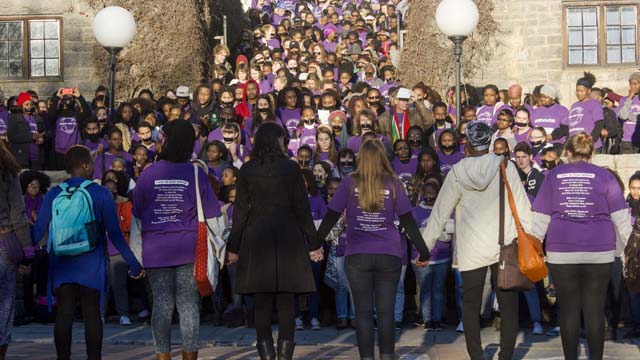 Amidst growing statistics of gruesome murder and violence perpetuated by men against women, a men only meeting is to be held this evening at the Zoo Major to discuss the current situation and the role that men can play to make the world a better place.
Behind the event, titled Just For Men is a third year Bachelor of Commerce student, Khwezi Ngobese, who is alarmed by the growing trend.
Three Rhodes University students Anelisa Dulaze, Amanda Tweyi, Lelona Fufu were murdered by men. Their stories reflect dangers and violence faced by women on a daily basis in South Africa and all over the world.
"Every day we hear gruesome and horrifying accounts of harassment, abuse, kidnapping, rape and murder. Through recent events, now more than ever this reality is brought to the fore. This is just not right." Mr Ngobese says.
On social media, #MenAreTrash has seen women share their experiences of abuse and rally against patriarchal values which cause and support violence against women.
President Jacob Zuma, in a statement on Tuesday, said the frequency of attacks committed by family members or intimate partners is concerning.
"The nation must forge a united front with the law enforcement authorities, government and all sectors of society in fighting this appalling scourge and isolate these criminals in society but within the ambit of the law," said Zuma.
The scourge is rampant. South African Police Service crime statistics last year recorded 51,895 sexual offences, a decrease that was received as potentially worrying, given that reported rapes are estimated to be as high as seven times those reported. A Statistics South Africa report released recently painted a bleak picture of women and violence. A look at the court roll reveals the grim reality of violent masculinity.
The outrage, which rises up intermittently according to the latest horror, must also be accompanied by action.
It is to this end that the Men's Fellowship at Rhodes University has convened a Men's Meeting where they are calling for men to "have a conversation to discuss the current situation and our role as men – making the world a better place for our sisters, mothers and friends."
The discussion will take place today, at 18h00 at the Zoo Major, Rhodes University.
Source: Communications
Please help us to raise funds so that we can give all our students a chance to access online teaching and learning. Covid-19 has disrupted our students' education. Don't let the digital divide put their future at risk. Visit www.ru.ac.za/rucoronavirusgateway to donate