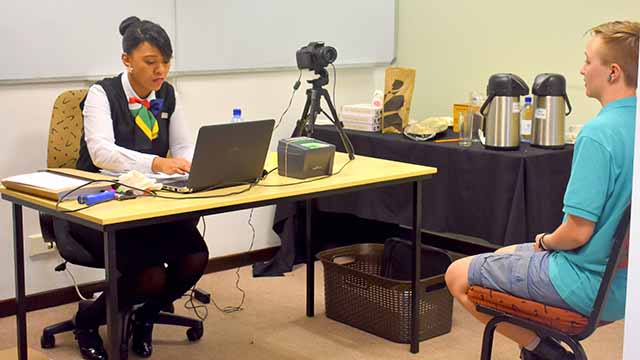 For the first time in the history of Rhodes, the Visa Facilitation Service (VFS) travelled to the University campus last week to test the new mobile biometric on international students to ensure that they meet their visa requirements for 2018.
Visas for those currently studying expires at the end of December 2017 and students have to go through the lengthy processes of visa applications. The mobile biometric service is critical for international students as there is no immigration services available in Grahamstown, visa renewal applications can only be processed in Port Elizabeth.
The visa application process includes applying for a South African police clearance; securing South African medical aid cover for 2018, having certified proof of financial means for 2018 and having proof of accommodation. Although the mobile biometric service comes at an extra cost, the convenience makes it a better option for the students.
Ultimately, every individual visa is a matter between the Department of Home Affairs and the individual applicant. The purpose of the VFS service is to collect the documentation and to provide the biometrics of the applicants. They are not authorised to give advice on behalf of the Department of Home Affairs.
Over sixty students were successfully assisted over one day. Students who have prior experience of renewals noted that the overall assessment was extremely convenient to have on campus.
For those who were doing this for the first time, not everyone had the correct documents in place, but they received additional support from the Rhodes University International office and were able to complete the process on the same day.
"Students need to familiarise themselves with the core rules and requirements of visa applications by attending the briefing sessions offered throughout the year by the International office. For example, some students had passports that were about to expire. The rule is that DHA will not place a visa in a passport that goes beyond the date of expiry of the passport," warned Orla.
"Now that the new system has been tested, we will make provision for the mobile service to come to campus during Swot week in 2018. The service can also accommodate all applicants who need to do all visa renewals, including international staff, their relatives and postdoctoral researchers," she added.
Source: Communications
Please help us to raise funds so that we can give all our students a chance to access online teaching and learning. Covid-19 has disrupted our students' education. Don't let the digital divide put their future at risk. Visit www.ru.ac.za/rucoronavirusgateway to donate