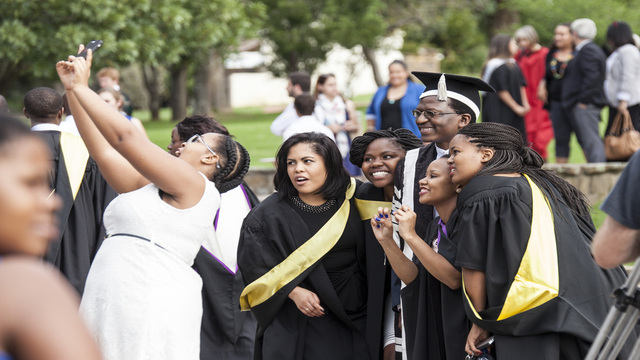 When Phelokazi Ndaba*, a 19-year-old Rhodes University law student, became one of the first group of 150 students to benefit from the newly launched Isivivane Fund, she was finally able to let go of her grave fears of becoming another statistic of financial exclusion.
Born in a township in Kwa-Zulu Natal that is notorious for high rates of teenage pregnancies and a lack of interest among the youth in progression through higher education, Ndaba says she wanted to be different.
"I chose a university that has a sense of unity, a university where students care about other students and is academically challenging. Not only am I going to be a lawyer, I will also have an additional qualification in Psychology from the LLB that I am studying towards through the five-year Bachelor of Arts route," she enthused.
For the past two years, the teenager raised by a single working mother has suffered from depression and anxiety because of financial strain. "It is very hard to be here in this beautiful campus knowing that my mother has not eaten in days. It is an emotional burden that no child should carry. This bursary is exactly what my family needs as my mother is elderly and sick and will not be working for long," said the second-year student.
The Isivivane Fund – a fundraising initiative inspired by a Nguni saying "ukuphosa itshe esivivaneni" (to throw a stone on the pile/monument) to make a personal contribution to a greater common cause – is to be launched on Tuesday, 06 June 2017 at the University.
The main goal of Isivivane Fund is to secure sufficient funding to ensure that no academically capable but financially needy student is refused entry to Rhodes University on the basis of lack of funds.
A 10-year campaign, Isivivane is the biggest fundraising initiative to be undertaken by Rhodes University in its 113-year history. It aims to raise R1 billion to achieve the following educational goals: to give academically deserving undergraduate students who are in financial need the opportunity to access Rhodes quality and transformative education, to increase postgraduate intake, to heighten student experience and to grow the endowment to ensure sustainability.
As one of the founding sponsors, Absa has donated R5 million to the Isivivane Fund. This fund will assist Ndaba and 149 other academically deserving students who are faced with the challenge of funding their education as they fall outside of the NSFAS catchment - being the 'missing middle'.
"We are grateful to Absa, our founding sponsor. This contribution will ensure that these young bright minds get an opportunity to not only obtain their degrees but also go back to their communities to break the cycle of poverty in our society. NSFAS funding is completely inadequate in the face of an ever-increasing demand for financial aid. In addition to the needs of the poorest of the poor, there are also the needs of the 'missing middle' - academically deserving students whose family income is not enough to cover their university study costs. Our position is that educating a young person is not an expense but an investment in the future. There is no better investment that any nation can make than ensuring that its youth has access to quality and life-changing education. This is our small contribution in creating a better society," said Vice Chancellor, Dr Sizwe Mabizela.
"Just as Rhodes will never stop seeking out the best students, we must also constantly reaffirm our commitment to making a Rhodes education accessible to everyone, irrespective of their financial position. Through this initiative, we also aim to ensure that the holistic educational experience of our students in and outside the classroom is a rich and an affirming one. This initiative is our opportunity to show our commitment to the realisation of a more just, more humane, more caring, more equitable, fairer, more compassionate and more inclusive society. No contribution is too big or too small," concluded Dr Mabizela.
* Phelokazi Ndaba is not her real name
Source: Communications
Please help us to raise funds so that we can give all our students a chance to access online teaching and learning. Covid-19 has disrupted our students' education. Don't let the digital divide put their future at risk. Visit www.ru.ac.za/rucoronavirusgateway to donate