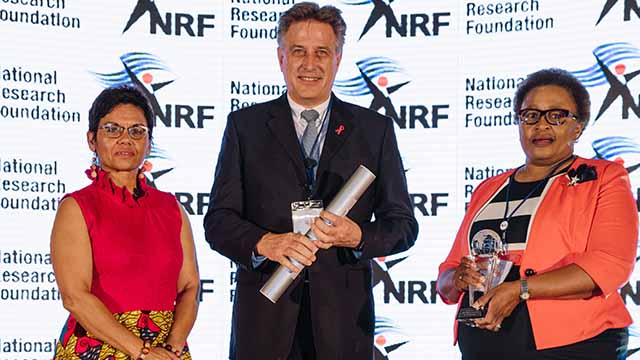 Amongst those honoured at the National Research Foundation Gala Awards held in Bloemfontein on the evening of 14 September 2017 was Dr William Bennet of the Department of English Language and Linguistics at Rhodes University.
Dr Bennett was one of two recipients nationally of an NRF P-Rating award. A "P" rating is assigned to researchers (normally under the age of 35 years), who are considered likely to become future international leaders in their respective fields, on the basis of exceptional potential demonstrated in research performance and output during doctoral and early post-doctoral careers.
Dr Bennet's main research area is phonological theory, particularly cross–linguistic phonological typology, and the description of under-documented, under-studies, and endangered languages. His research has focussed upon indigenous African languages, and he has worked on numerous languages including Defaka and Nkoroo from Nigeria; Moro from Sudan; Nkore-Kiga from Uganda; and Setswana, isiXhosa, isiZulu, Xitsonga, and isiMpondo from South Africa. He earned his PhD in Linguistics from Rutgers University in New Jersey and is currently Assistant Professor at the University of Calgary's School of Languages, Linguistics, Literatures and Cultures, as well as Senior Research Associate in the Department of English Language and Linguistics at Rhodes University. His publications include a monograph entitled The Phonology of Consonants, published by Cambridge University Press in 2015, as well as articles in peer-reviewed national and international journals, and book chapters.
Source: Research Office
Please help us to raise funds so that we can give all our students a chance to access online teaching and learning. Covid-19 has disrupted our students' education. Don't let the digital divide put their future at risk. Visit www.ru.ac.za/rucoronavirusgateway to donate