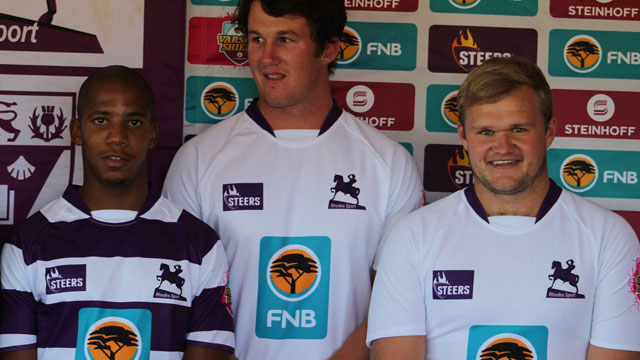 Rhodes University makes its FNB Varsity Shield debut today (Thursday, 9 February 2017) against Tshwane University of Technology in Tshwane at 6:30PM. Five years of preparation have led to this much anticipated moment in the 10th year of the annual inter-university rugby union championship featuring all South African universities.
Coach Qondakele Sompondo's team is all systems go as they prepare to partake in the celebrated championship as part of the FNB Varsity Shield (a division of the Varsity Cup). "It's taken us this long to be part of semi-professional rugby because the university believes that academic excellence comes first. But our boys have managed to strike the balance and we are ready to take it all," he enthused.
The team and the Sports administration department pledged all their 2017 winnings to the recently launched Isivivane Fund, the Vice Chancellor's campaign to raise funds for financially needy but academically deserving students. This was announced at the launch of the Rhodes rugby season in Grahamstown last week.
"Good People make excellent Rugby Players," said Sompondo.
The Vice-Chancellor, Dr Sizwe Mabizela said he is proud of the boys for being socially responsible enough to consider contributing to this very important initiative. "It cannot be and it should not be that an academically deserving young person should be deprived of an opportunity to acquire higher education simply because he or she is born into a family of meagre means. I was a beneficiary of bursaries and scholarships throughout my university studies. We wish them all the luck with their Varsity Shield debut, with such good intentions, they will be fitting champions".
Speaking on qualifying for the Varsity Shield, Siyabulela Magopeni, Manager for Rhodes Sport Administration said this is a fantastic achievement. "A reward for dedication and hard work by the rugby club. I would like to commend everyone who has played a role in ensuring that we achieve this goal. Sports Administration department commits itself in giving maximum support to the boys in ensuring that we sustain our status at this level".
Rhodes is one of three additional teams to the Varsity Shield this year. The other teams are Cape Peninsula University of Technology and Walter Sisulu University. The FNB Varsity Cup presented by Steinhoff International, is divided into two leagues, Varsity Shield (7 teams) and Varsity Cup. This year, one Varsity Shield team will be promoted to the Varsity Cup, joining the eight existing teams.
"The competition is becoming more and more inclusive and to have increased the university participation by 100% in under 10 years is phenomenal," announced Varsity Cup Chairman, Jurie Roux.
Rhodes will compete against six South African universities from 9 February until 20 March 2017.
Rhodes Fixtures:
- Tshwane University of Technology – Thursday, 9 February (Tshwane)
- Cape Peninsula University of Technology – Monday, 13 February (Grahamstown)
- University of Western Cape – Monday, 20 February (Cape Town)
- University of Fort Hare – Monday, 27 February (Grahamstown)
- Walter Sisulu University – 13 March (Grahamstown)
- University of KwaZulu Natal – 20 March (Durban)
All matches kick off at 6:30PM.
Source: Communications
Please help us to raise funds so that we can give all our students a chance to access online teaching and learning. Covid-19 has disrupted our students' education. Don't let the digital divide put their future at risk. Visit www.ru.ac.za/rucoronavirusgateway to donate