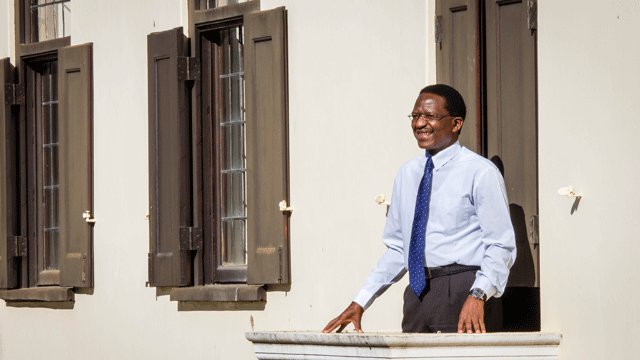 In my circular last week, I provided an update about the work that we are doing to strengthen a counter culture to rape and sexual/gender-based violence in our institution.
I would like to recap on two statements which I made in that correspondence:
· Firstly, I said we will be monitoring the implementation and ongoing conceptualisation of our action plan and provide progress reports on a regular basis.
· Second, I enjoined us all to strengthen the compact to rid our University of the pernicious scourge of sexual and gender-based violence. I invited all our students and staff to commit to this objective.
I want to thank everyone for their committed support and involvement in this regard, our students and staff, and to note their welcome contributions. A meeting of the Ad Hoc Committee to process the recommendations contained in the Sexual Violence Report and propose an implementation plan and strategy is scheduled for next week (the week starting on Monday, 03 April). The team comprises all the key constituencies of our university community – students, unions and academics.
We have made contact with the Gender Commission to run workshops on campus which should start soon. The Students Representative Council will soon be running izimbizo at our residences and halls to obtain feedback and input from students. Adequate awareness and sensitivity, education, support, action, input and participation are critical to the success of the programme to develop a counter culture. I am happy with the ongoing work in this regard since the start of the academic year.
We urge everyone to take advantage of the opportunities created to achieve our shared and stated outcome - to develop a counter culture to rape culture.
In our fight, everything that we, as the university can do, is determined by the constitution and the law. From time to time we need to review our approaches and where necessary adjust them to the changing circumstances. Every intervention, adjustment and change to our approach must be informed by the constitution, law and our values as an institution. Chief among these values is human dignity, the achievement of equality and the advancement of human rights and freedoms, and the creation of a non-racist and non-sexist society.
Any conduct which deviates from what the constitution and the law enjoin us to do is therefore at odds with what we are seeking to build.
We must avoid any form of engagement which could fall foul of the law, violates the rights of others and undermines legitimate structures and established systems. This would imperil everything we are seeking to achieve in establishing a counter culture to rape culture. Our systems should create sufficient safe spaces for concerns to be raised and attended to. Where this is not the case, this should be pointed out and corrective action taken.
We have since noted some disturbing developments in the past week where students were mobilised to "deal with rapists." Public platforms were used to publish names of "rapists". Public statements were also made about the university not having done anything about rape in the institution.
We would like to state as follows in this respect:
1. All cases emanating from a list of names which was published in 2016, and where there was a complainant and a complaint have been finalised. All of them were processed by an independent panel chaired by an experienced gender activist who is also an advocate. All cases were prosecuted by an independent advocate who is an experienced female attorney.
2. All complainants were afforded the requisite support. Feedback was received in writing from them reflecting on the process and their experiences in the process.
3. We urge everyone to work through the normal structures, including the SRC, to champion their views and to make themselves heard.
4. We urge everyone to work within the parameters of the constitution and the law and avoid embarking in acts which are prohibited under the constitution, the law and policy.
5. Report rape so that rapists can be apprehended and prosecuted. Due process does not just afford justice to the parties, it also enables the University to provide the necessary support to complainants.
Please make use of the 24-hour service psychological and medical support. Our Student Wellness and Harassment Officeand theCounselling Centre are accessible at 046 603 7071. Every student is guaranteed a professional service.
Kind regards,
Dr Sizwe Mabizela
Source: VC's Circular
Please help us to raise funds so that we can give all our students a chance to access online teaching and learning. Covid-19 has disrupted our students' education. Don't let the digital divide put their future at risk. Visit www.ru.ac.za/rucoronavirusgateway to donate