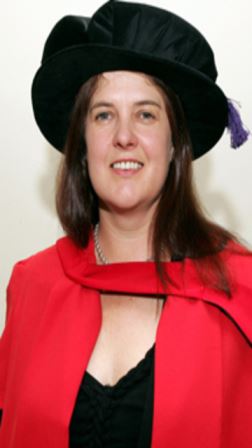 The Department of Chemistry hosted its annual Barker Lecture with Professor Susan Bourne, Head of the Department of Chemistry at the University of Cape Town, speaking on Supramolecular chemistry: useful properties through weak interactions.
The main premise of her presentation is to investigate and discuss ways that supramolecular chemistry can be used as an innovative and cost-effective tool to enhance South Africa's industrial culture.
Professor Bourne recognises that the discrepancy between the development of raw materials (of which South Africa has in abundance) and the finished product is wide and too costly to ignore. Her three types of supramolecular chemical processes were accompanied by theoretical explanations that point towards how these processes could help resolve the industrial problem facing the country.
She analysed work done in her laboratory over the past decade. The first process is crystal engineering; which is about the use of certain molecular combinations and interactions to predict outcomes of certain material structures.
"This process also develops products that are used for measuring pressure; to calibrate other pressure measuring equipment; as well as, to diagnose the performance of equipment that depends on pressures applied to it. This is particularly useful to the South African context when engaging how technology that is used to draw raw materials can be better developed," said Bourne.
The second process is called supramolecular modification of biology compounds; a process has to do with drugs and medicines for terminal illnesses. She argues that by changing the properties of an antiretroviral drug, for example, it can be more soluble, meaning better management of viral loads and general health.
The third process is responsive frameworks for selectivity and sense. This is the invention or manipulation of molecular components to produce materials that have predictor qualities such as sensing and selecting.
"The development of this material would be most helpful in solving the industrial crisis efficiently, as it would open the opportunity of developing materials with less excess wastage, increased operational efficiency and minimum energy usage," she said.
Professor Bourne concluded that, "supramolecular education should be introduced at an undergraduate level, as it is an appropriate bridge between chemistry and biology studies. The fusion of these three disciplines will add an incredible amount of value to graduates, propelling them to become future industrialists ready to combat the national and continental industrial crisis".
Source: Communications
Please help us to raise funds so that we can give all our students a chance to access online teaching and learning. Covid-19 has disrupted our students' education. Don't let the digital divide put their future at risk. Visit www.ru.ac.za/rucoronavirusgateway to donate