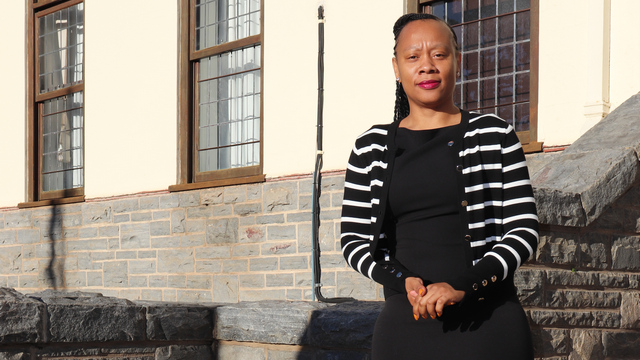 Rhodes University welcomed its first ever Institutional Planning, Research and Quality Assurance Manager last week. Before joining the University, Masego Mabaso worked for the Independent Development Trust, Council on Higher Education and the University of Venda. Her tenure at the Council on Higher Education ignited her insatiable interest in institutions of higher learning. "When I was dealing with accreditation of different programmes of institutions of higher learning, I developed an interest in the industry and I decided that it is the direction I want to take my career to," she said.
Though some would regard working at home as an advantage, Masego said it had its own challenges. However, she said when the opportunity came for her to work at the University of Venda, she wanted to develop her experience and knowledge in institutions of higher learning. When asked about moving from big cities to a small town of Makhanda, Masego said: "I do not need to conform to a certain lifestyle or a place, I am an easy going person. I put my career first and I can live wherever it takes me. I read an article on n newspaper about donkeys and portholes and when I arrived here I experienced all that within five minutes of driving".
Masego's position means that she has to maintain the University's research hegemony and she told Communications that she is ready for the mammoth task ahead of her. "I am honored to fill this new position and I am happy that I am not taking over any workload from anyone but I have to start from the ground. I am still pinching myself because this is still unbelievable. It is a step to the right direction for my professional career as a young black woman," she expressed.
The soft-spoken Manager acknowledged that she has a lot of work to do but said she is ready for the challenge. She said she would do a lot of of benchmarking with other Universities across the country. "In as much we are leaders in research, there is a component that we need to introduce – institutional research. I am also looking forward to collaboration with other Divisions and colleagues," she concluded.
Masego has a Post Graduate Diploma in Knowledge and Information Systems from the University of Stellenbosch, Bachelor of Information Science and Bachelor of Information Science Honours both from University of Pretoria. She is currently enrolled for her Masters Information and Knowledge Management.