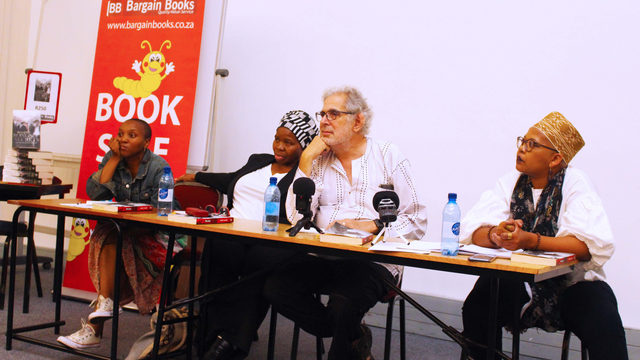 By Julian A Jacobs, PhD candidate, School of Journalism and Media Studies
Barry Gilder's latest book got the Rhodes University community and guests riled up during the first public dialogue for 2019 for the Department of Political & International Studies and Office of Equity & Institutional Culture series.
His latest book, a fiction novel called The List made for some interesting questions and debates amongst the guests, as he read certain extracts from his book. Gilder, a former African National Congress (ANC) military and intelligence operative who went in exile in 1976, used his many years of experience in this field to write a book that resonates with what has been happening since 1994 in post-apartheid South Africa.
In the book, the ghosts of the past have seemingly not gone to sleep and rumours of apartheid spies still working within the ranks of the ANC then and now are rearing their heads again. The mentioning of a list given to then President of South Africa, Nelson Mandela, has sparked several controversies over the last 25 years within the South African intelligence community.
However, discussants of his book in the form of poet, author and former Umkhonto we Sizwe combatant, Ms Makhosazana Xaba and Masters candidate in the Politics Department of Rhodes University, Ms Gcotyelwa Jimlongo lambasted him for his portrayal of female characters, who Jimlongo stated had to deal with the further subjugation of women by being regulated to the margins in his book.
Issues of patriarchy and sexism came to mind. Women in the struggle had to fight a triple battle in a sense, one against apartheid oppression, another against prejudice against women in the liberation movements and yet another in society.
Gilder echoed that his female characters were based on the times within the liberation movement, but stressed it was fictional. He did reiterate that through his many years in the intelligence community, he has never seen this "list" of apartheid spies within the ANC and to his knowledge it does not exist. The book is timely as it reflects on the rumours that still prevail today and Gilder mentioned in his responses to questions that the Stratcom journalists debacle that raised its head during the Winnie Mandela funeral last year is still not answered.
For Gilder, Xaba and Jimlongo the book lays a solid foundation for South Africans to talk, engage and as Xaba expressed in her honest reflection for the Truth and Reconciliation Commission (TRC) – what did we not deal with during the transition of power? Her critique went further when she questioned why the TRC is being led by clerics and not lawyers, as clerics sought forgiveness whereby lawyers would seek justice.
Dr Siphokazi Magadla, Senior Lecturer at Rhodes University's Department of Political & International Studies and the convener of the dialogue series, remarked that the dialogue series would continue throughout the coming year.