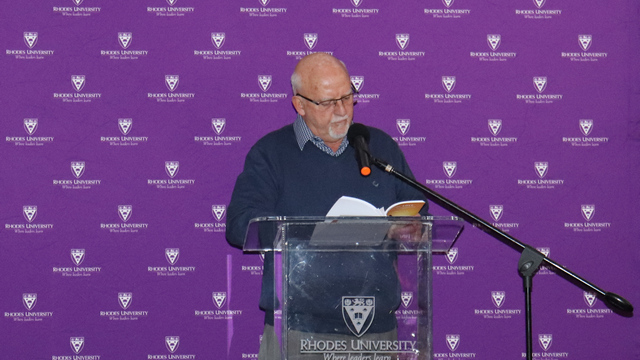 By Matebello Motantsi, Honours in Journalism and Media Studies student
On 12 June, a small congregation gathered to honour the launch of Larry Kauffman CSsR's book titled; Become Love: Gradual Growth and Transformation from John to Francis.
Kauffman, who served as a Theology Lecturer and Chaplin at Rhodes University between 1994 and 1996, published this book in memory of Professor Brian Gaybba who was once Head of the Department of Divinity Studies, during its tenure at the University, and a personal friend of Kauffman's.
This book, which is grounded on the teachings of the gospel of John in the Bible perpetuates love –the kind love which the author says Gaybba often and fondly professed during his lifetime.
At the launch, Kauffman explained the influences that had led him to write this book, including the wise words of Gaybba. Kauffman also spoke to the teachings of biblical love and moral growth by the Catholic Church popes, John Paul and Francis. His speech was beautifully complemented by the reading of extracts that spoke loudly to the life and love of Prof Gaybba.
He light-heartedly commented on the number of attendees at the launch, which he said surpassed his expectation of around 10 people. This launch was attended by church representatives, Monika Gaybba, widow of the late professor and their son Richard, Bishop Vincent Zungu of the Catholic Diocese of Port Elizabeth and the University's Vice-Chancellor, Dr Sizwe Mabizela.