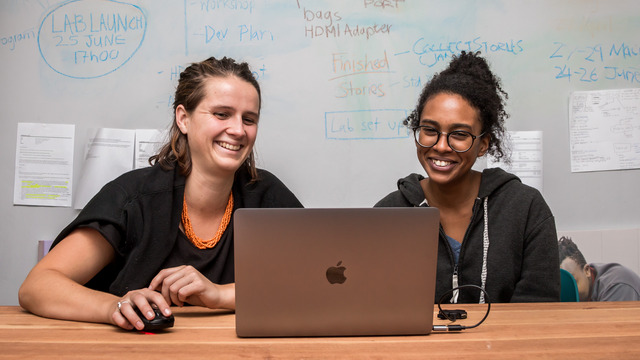 By Thandi Matyobeni, Master of Arts student
The Social Innovation (SI) Hub is an exciting new project run by Rhodes University's Community Engagement Division that promises to bring innovation, creativity and improved digital literacy to the Makana community.
The EU-Common Good First-funded lab aims to make resources in the form of skills development, equipment and a growing network of community innovators accessible to Makana residents who have graciously undertaken the charge of creating long-term solutions to the many social issues affecting our beloved city.
At the core of the SI Hub's mandate, is developing digital storytelling as a means of bringing about social innovation. Simply put, digital storytelling is an approach to the ancient art of storytelling that uses modern technologies to create short stories comprising different elements of multimedia – photo, video and audio.
The purpose of this is seemingly endless – it gives the storytellers an opportunity to explore and confront their interactions with the world and their communities and as such, can be a cathartic healing process, particularly for those involved in community work. The approach also builds a sense of human interconnectedness as the 'story circle' process encourages group discussion and constructive feedback. At the heart of storytelling is the concept of Ubuntu which should be the foundation of social development initiatives in African societies.
"Digital storytelling is very versatile. It can add value to an academic programme or contribute to human development," explained Diana Hornby, Director of Rhodes University's Community Engagement Division.
To further develop this human interconnectedness, the collective of global partners under the EU-Common Good First project created an online and mobile platform which invites social innovators to upload their stories for people around the world to see. The platform thus serves as a space where people can interact with others who may be thousands of kilometres around the world but have similar experiences and can benefit from sharing ideas and solutions.
"Rhodes University is very fortunate to have been part of the EU-funded Common Good First project – the collective learning has been immense," said Hornby.
Considering that the SI Hub is part of Rhodes University, a reputable university in a small town with the immense responsibility of improving the lives of the people who contribute to its success even without being enrolled in or employed by the institution, the Hub has an additional mandate to encourage the use of digital storytelling in educational spaces. For academics, digital storytelling is an opportunity to improve Afro-centric research in digital industries and can be an effective tool for service-learning, student assessment and reflection on course material. Students can benefit from academic digital storytelling as it develops their digital skills and critical engagement with the community. In the Basic Education space, it encourages citizenship and activism among young learners and builds critical thinking and problem-solving skills.
"It is now incumbent on us as the Community Engagement Division to contextualise and embed this learning in the interests of the community we serve - academics, students and community partner organisations," said Hornby.
Overall, the SI Hub is committed to improving the digital divide in South Africa – a country with a stark distinction between those with access to technology and those without. A major aspect of its mandate to improve digital literacy is the mobile and pop-up labs which takes equipment to the community to upskill local partners and to share resources.
The SI Hub will officially be opened on 25 June at 16h30. Interested parties are encouraged to visit the team at the Community Engagement Offices at 5 Prince Alfred Street to hear more about the project and about how to get involved.